Mazda MX-30 vs Kia Soul EV: range and charging
Kia has the edge when it comes to range and charging; the Mazda is more akin to smaller electric city cars here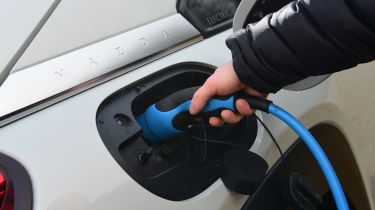 Mazda and Kia have applied different philosophies to the small SUV format and this is reflected in their approaches to battery size and range. The MX-30 is intended as a shorter-range, predominantly urban-based machine to be used to supplement a larger family car, while the Soul EV is pitched more as a do-it-all small family car.
The Mazda's 35.5kWh battery has 30kWh available for use, which equates to a claimed 124 miles of driving range. Mazda says a smaller battery is less harmful to the environment – something more eco-conscious buyers may be drawn to. However, the Kia's 64kWh usable battery capacity is over twice that of the Mazda, bringing with it a much more flexible 280-mile claimed driving range.
Both cars will still do the job every day – but the fact that most UK drivers average only around 30 miles a day often doesn't alleviate buyers' range anxiety. The Kia offers a peace-of-mind buffer here, as well as more flexibility for longer trips. 
Our real-world tests in cold weather revealed that the Mazda returned 3.2 miles of range per kWh, versus the Kia's 3.9 miles per kWh. This means a real-world range of just 96 miles for the Mazda, compared to a more flexible 250 miles in the Kia.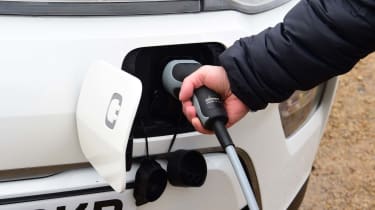 Charging
The Kia Soul EV is equipped with punchier charging capability, with DC charging up to 100kW supported, versus a maximum of 50kW in the Mazda. Find a compatible charger and you'll manage a charge in around 54 minutes in the Kia, versus 36 minutes in the Mazda – but remember the battery in the latter is more or less half the size. The Kia will charge in around an hour and 15 minutes from a 50kW supply.
Most owners will charge from their home wallbox most of the time; the Kia supports 7.2kW charging this way, while the Mazda tops out at 6.6kW. This equates to charging times of around nine-and-a-half hours and five hours respectively.
So, the Kia has the charging capabilities to match its larger battery, but if you have regular access to chargers on the faster end of the spectrum, you'll be able to keep the Mazda's smaller battery topped up relatively easily and quickly.