Twin test: Mazda MX-30 vs Kia Soul EV
The Mazda MX-30 is one of the most stylish electric cars on sale – but is it a better bet than the family-focused Kia Soul EV?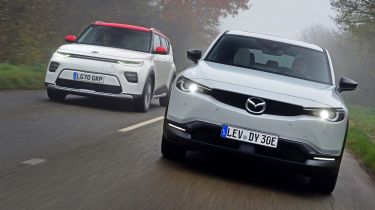 Electric SUVs are now seemingly the default choice, both for manufacturers taking their first step into electrification and first-time buyers looking to make the switch from petrol or diesel power. Kia has been building these for a while, with the e-Niro and first-generation Soul EV selling well before many rivals managed to get in on the action.
Mazda is the latest maker to dip its toe into the water; the MX-30 is the Japanese firm's first electric car and is designed to impress. Its focus is on driving pleasure and eco-friendliness, with a keen-handling chassis and a number of sustainable design choices – most notably a rather small battery.
Mazda MX-30 GT Sport Tech
Pros: Nice design, quality build, great to drive
Cons: Short range, not terribly practical, pricey
Kia Soul EV First Edition
Pros: Practical, longer range, more efficient
Cons: Not as good to drive, bland interior, smaller boot
The new Mazda has some stiff competition, not least from the recently rejuvenated – and much longer-range – Kia Soul EV. Here, we examine the details to see which small electric SUV is best.