Mazda MX-30 vs Kia Soul EV: performance and handling
Mazda's knack for making fun-to-drive cars continues with the MX-30, but the Kia Soul EV is faster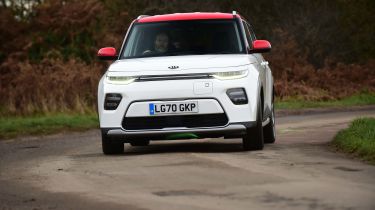 The Mazda MX-30 is based on the same basic underpinnings as the excellent (but non-electrified) Mazda 3 hatchback. That car's fun factor seems to be present in the MX-30 despite the extra weight on board, with solid body control, plenty of grip and steering that's near-perfect. The Kia is nowhere near as engaging for a keen driver. 
Performance is stronger in the Kia, with an appreciably faster 0-62mph time (7.6 seconds against 9.7) and more torque available for on-demand overtaking performance. This keen response also works well around town.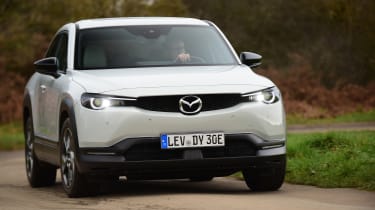 The MX-30's suspension set-up feels tighter and more controlled than that of the Soul; the Mazda's sportier character is countered by a more pliant and softer-edged ride in the Kia. The Kia's steering is lighter and less communicative than the Mazda's – not great for driving fun, but useful when maneuvering in a tight spot.
Despite its relative lack of dynamic ability, the Soul EV remains a solid and stable car on the move, both through corners and on the motorway. Both cars are refined at higher speed, despite not really being aimed at long-distance drivers, but the Soul suppresses its wind and road noise a little better than the MX-30.