Mazda MX-30 vs Kia Soul EV: space and practicality
The Kia is the more practical choice, despite being down on boot space compared to the Mazda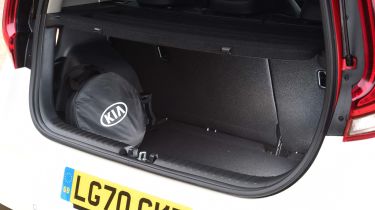 Put simply, it's the Kia Soul EV that comes out on top here. Mazda's slick design incorporates clever rear-hinged doors for rear-seat access; they look great but do feel restrictive when getting in, especially given that you have to move the front seats forward first. 
Once you've got in the back, you'll find that space is considerably more cramped than in the Soul – but headroom and legroom will be tight for taller occupants. Children will have enough space – and are certain to love the novel door set-up.
Interestingly, and despite appearances, the MX-30 is longer than the Soul and has a larger boot – 341 litres against 315. However, thanks to the Kia's squarer shape, there's more space when you fold down the seats – 1,339 litres verus 1,146 in the Mazda.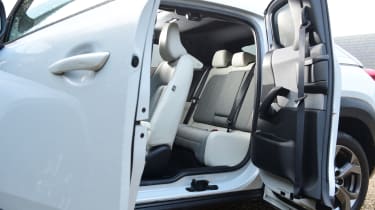 Still, it's the Soul EV that's the better bet for overall practicality, thanks mainly to its extra set of conventional doors and superior cabin space. The car's boxy design may not be quite as stylish, but it gives rear-seat passengers more space in all directions. 
Rearward visibility is another benefit of the Soul's squarer proportions, which bring with them larger windows and narrower pillars than those of the MX-30. Both cars get parking sensors and cameras to help here, however.