Honda e vs MINI Electric: running costs and warranty
The Honda is slightly more efficient than the MINI; both will be cheap to run, however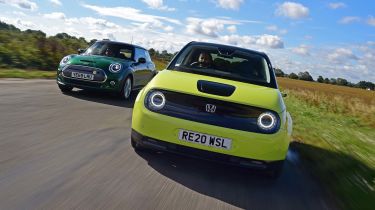 Small electric cars make a lot of sense if you do a lot of shorter trips in an urban setting. Based on the UK average home electricity tariff of 14.4p per kWh, it'll cost £4.10 to charge the Honda e and £4.16 for the MINI. 
Taking our on-test efficiency data into account (3.6 miles per kWh for the MINI and 3.8 per kWh for the Honda) and extrapolating charging costs, the Honda e will cost £379 in electricity per year for someone covering 10,000 miles. The MINI will cost just £21 more over the same period, or £400 – not much extra to pay for the benefit of some extra performance.
Both cars are currently exempt from company-car tax and the London Congestion Charge, and as with other electric cars at this price point, each model's on-the-road price includes the government's Plug-In Car Grant. 
Servicing is covered by plans provided by each manufacturer: Honda charges £649 for a five-year service plan, while MINI charges £10 a month. This works out at £130 a year for the Honda and £120 a year for the MINI.
Residual values are strong for both the MINI and Honda, which is good news for those buying privately. Our experts reckon the MINI will retain the most value after a typical three-year, 36,000-mile ownership period (48.3%), with the Honda just slightly behind at 45.4%. These are strong figures for electric cars. 
Insurance for electric cars tends to run a little higher than for their petrol or diesel-powered equivalents, and that's the case here: the MINI Electric sits in group 22 out of 50 (23 for top-spec Level 3 as tested), while the Honda occupies group 25 in standard trim, or 29 in Advance form as tested here.