Honda e vs MINI Electric: performance and handling
The MINI is faster and more fun to drive, but the Honda still impresses and is comfortable, too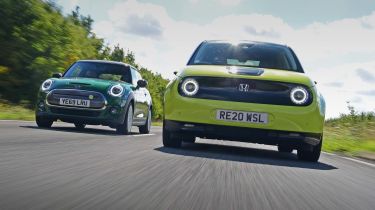 These two small electric cars take different approaches to driving pleasure. MINI has a sporty reputation to uphold and so has made sure its electric offering keeps a sharper edge; the Honda, meanwhile, is a more relaxed affair with road manners tuned towards keeping its occupants comfortable around town.
The MINI is the most fun to drive, with punchier performance that's more hot hatch than urban runabout. The throttle response is sharper than in the Honda, paired with quick, precise steering that feels satisfyingly weighty. There's a bit more grip through corners than you'll find in the Honda, too. 
The Honda isn't quite as fast, but still has enough torque to feel quicker than a conventionally powered supermini. Power is delivered smoothly, rather than in an exciting surge as in the MINI; the throttle is a bit less responsive and so the feeling is of a more relaxed car. This extends to the steering, which is lighter than the MINI's but still almost as direct.
The MINI has the firmer suspension of the two cars and isn't quite as comfortable as a result. The Honda's softer suspension, shorter wheelbase and tall roof mean it rolls a bit more in corners – but it still feels safe and secure thanks to the low-set weight of its battery.
Regenerative braking works well on both cars; the MINI's system can be used in place of the standard brakes when pushing on, while the Honda's can be set to bring the car to a complete stop in its most aggressive setting and is great around town.