Honda e vs MINI Electric: space and practicality
Neither car is especially practical, but the Honda's extra set of doors helps counter its smaller boot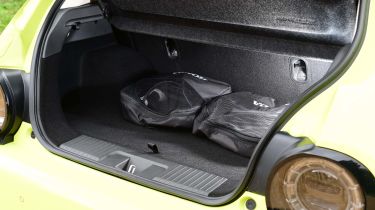 Both of these cars are small and intended for shorter city-based jaunts rather than four-up road trips, but the Honda has the upper hand thanks to its extra pair of doors. Both cars only have four seats, but access to the rears in the Honda is far less hassle. Once you're in, there's more space than in the MINI, too. 
The MINI has the larger boot of the two cars, its 211 litres beating the Honda's 171 litres; the MINI's load space is also deeper and has a dedicated underfloor compartment for charging cables, something the Honda does without.
Both cars excel around town thanks to their compact dimensions and large glasshouses, but the Honda feels the most suited to tight city streets thanks to an impressive turning circle that's more than two metres smaller than the MINI's. 
The Honda's digital mirrors – a pair of cameras outside with dedicated screens inside – could be a small point of contention for some. You need to get used to focusing your eyes on a screen inside the car rather than a point on an external mirror, but the system generally works well once you're accustomed to it.