Honda e vs MINI Electric: range and charging
Range isn't a strong point for either of these cars, but the Honda is marginally more efficient than the MINI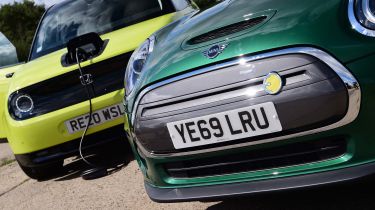 Both the Honda and MINI have relatively short ranges in the grand scheme of electric cars, returning 137 and 141 miles respectively. The Honda has a larger battery than the MINI – 35.5kWh versus 32.6kWh – but the MINI actually has a larger proportion of that battery available for use: 28.9kWh against the Honda's 28.5kWh.
In our real-world testing, however, the Honda proved the more efficient and longer-ranged of the pair, managing 108 miles on a single charge, with the MINI four miles behind on 104. Neither will be the best choice for motorway cruising as a result, but shorter urban trips – or medium-sized ones with access to public chargers – are more than within these superminis' remit.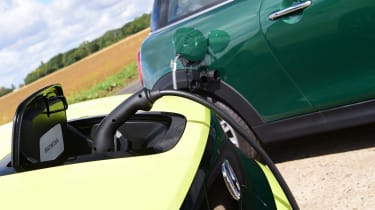 Charging
The Honda e is the more flexible charger of the two cars: its 35.5kWh battery can be charged from a 100kW supply, whereas the MINI tops out at 50kW. The Honda e can charge from zero to 80% in 30 minutes, but the MINI can do the same at its 50kW in about 36 minutes; you'll notice a bigger difference between charging speeds if you're just topping up at lower percentages.
The Honda e has a 6.6kW AC on-board charger and so takes four hours and six minutes to charge to 100% from a standard home wallbox. The MINI can charge slightly faster when connected to a home wallbox thanks to its 11kW on-board charger, with a full charge taking three hours and 12 minutes.