Twin test: Honda e vs MINI Electric
Small, stylish electric cars are the next big thing in urban transport. Can the high-tech Honda take on the fashionable MINI?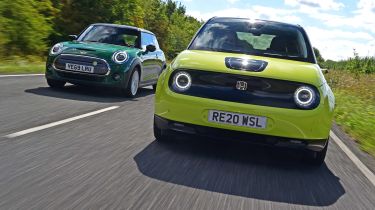 While the recent electric-car revolution has been spearheaded by SUVs intended for use as the main family car, the supermini class was first to the party. The success of the Renault ZOE has inspired many other manufacturers to come up with their own take on a small electric car at varying price points.
Aimed squarely at urban customers looking for a stylish and well appointed electric runabout, the Honda e and MINI Electric are two of the most chic electric cars on sale. Each has a retro-inspired design with plenty of modern touches, while they also both have a range of well under 200 miles – a sign that they aren't intended for long-distance trips.
While the Honda e was built from the ground up as the Japanese brand's first European-market electric car, the MINI Electric uses a familiar platform that also underpins its petrol and diesel-powered siblings.
There's not much to separate the two on paper, but the Honda feels more modern – especially when you're sitting in its technology-packed interior. Read on to find out which of these desirable electric runabouts is best...