Volkswagen ID.3 vs Nissan Leaf: interior and infotainment
Modern-feeling interior means the Volkswagen edges ahead of the Nissan despite some quality issues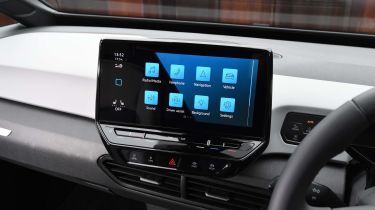 The Volkswagen ID.3 has a striking interior when you first get in, because it's much more minimalist than those of traditional family cars. There are few buttons on the dashboard; instead, most functions are contained on the large 10-inch touchscreen display. Sadly, this screen – while responsive – is fiddly to use. It's not easy to make fine adjustments to the air-conditioning while driving, for example. It's a shame, because otherwise the infotainment setup is good.
There's Android Auto and Apple CarPlay on both cars here, but it's better to use on the larger, sharper and more responsive screen in the Volkswagen. The Leaf's screen looks really old-fashioned, with ugly graphics and a smallish display, but at least it has plenty of buttons for ease of use.
The ID.3 misses out on wireless phone charging, which seems a strange oversight, but the Leaf doesn't have it either. EV-specific functions are present on both cars, for example predicted range overlays on the map in the Leaf and driving information on the Volkswagen's digital dashboard dials.
The Volkswagen's interior has a modern feel, but the materials don't live up to that. They're disappointing, partly because we've come to expect better from Volkswagen over the years, and partly because the launch version of the ID.3 costs over £35,000. The Nissan's interior is no better, with similar hard-wearing but cheap-looking plastics. It also looks dated and dull next to the ID.3's, which at least has a futuristic design. Build quality in both cars is good, though.