Volkswagen ID.3 vs Nissan Leaf: range and charging
These cars have similar battery sizes, but charging the Volkswagen ID.3 is more convenient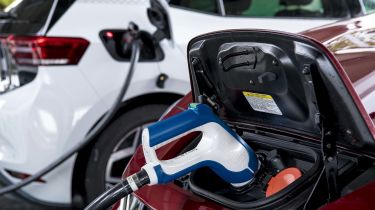 Both the Volkswagen ID.3 and Nissan Leaf (in e+form) have 62kWh battery packs, but while 58kWh of that is usable in the Volkswagen, the Nissan can only use 56kWh. This isn't a huge difference, and that can be seen in the predicted ranges of each car.
The claimed range of the Volkswagen according to official testing is 260 miles, compared to 239 miles for the Nissan. Yet in our real-world driving tests, the efficiency figures we recorded worked out at a 203-mile range for the ID.3 and a 207-mile range for the Leaf. That's because we got an average of 3.5 miles per kWh in the Volkswagen and 3.7 miles per kWh in the Nissan. The latter is also slightly lighter, though not by much.
Charging
Despite falling slightly behind its rival for range, the Volkswagen is better for charging. All ID.3s available in the UK to date get 100kW charging as standard – the same as the Nissan. At that speed, you can charge the battery from empty to 80% full in 30 minutes, or just under an hour from a more widespread 50kW source.
The Leaf takes about the same – 35 minutes at 100kW and slightly more than an hour at 50kW. However, it uses the less common CHAdeMO socket rather than CCS, which the VW has. The ID.3 also has an 11kW on-board charger, which allows a full charge – empty to full – in six hours from the right wallbox at home. The Leaf only has a 6.6kW charger, so no matter what wallbox you have at home, it'll take around 10 hours to fill up. At least it's possible overnight, but the four-hour difference is important if you have less time to charge.