Volkswagen ID.3 vs Nissan Leaf: verdict and specifications
The Volkswagen ID.3 feels like the next step for electric family car; the Nissan Leaf has now been left behind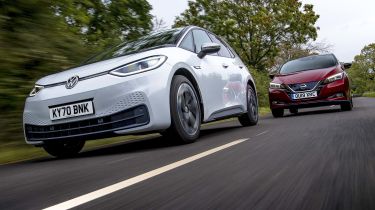 The family car will change dramatically over the coming years, and the Volkswagen ID.3 – and to some extent, the Nissan Leaf – show where it's going. These cars are super-quiet, comfortable and cheap to run. Crucially, they don't produce tailpipe emissions, which will become more and more important as time goes by.
The Volkswagen is a look at the future, with its high-tech interior, comfortable and composed driving experience and super-fast charging, while the Nissan now seems like a 'first look' at electric-car technology that's falling behind newer products.
1st: Volkswagen ID.3
The ID.3 is quick, quiet, comfortable, full of technology and very cheap to run – all of which means it's a superb family car. It has plenty of usable range, and with even longer-range variants coming soon, that point will get even better. It's also really spacious for passengers and has lots of clever technology on board. It's just a shame the interior isn't higher quality, and we'd like a few more physical buttons on the dashboard.
2nd: Nissan Leaf
The Nissan Leaf showed us what the future of the car would be when it first arrived, and this second-generation model improved the formula. It's now feeling dated, though: the technology inside is lacking and it's not as comfortable nor as good to drive as the Volkswagen. It's cursed with a poor driving position and has less passenger space than its newest rival, too.
Specifications
| Car | Volkswagen ID.3 1ST Plus | Nissan Leaf e+ Tekna |
| --- | --- | --- |
| List price | £35,880 | £36,395 |
| Monthly finance (PCP) | £539 | £450 |
| Motor | Single electric motor | Single electric motor |
| Transmission | Single-speed, rear-wheel drive | Single-speed, front-wheel drive |
| Battery capacity (total / usable) | 62 / 58kWh | 62 / 56kWh |
| Power / torque | 201bhp / 310Nm | 214bhp / 340Nm |
| 0-62mph | 7.3 seconds | 6.9 seconds |
| Top speed | 99mph | 98mph |
| 100% charge cost at 14p/kWh | £8.35 | £8.06 |
| Charge time (socket/wallbox/50kW/100kW) | 9h 15m / 6h15m / 57m / 30m | 10h / 10h / 62m / 35m |
| Official electric range | 260 miles | 239 miles |
| On-test MPG / electric range | 203 miles | 207 miles |
| Road tax / BiK rate  | £0 / 0% | £0 / 0% |
| Length / width / height / wheelbase | 4,261 / 1,568 / 1,809 / 2,770mm | 4,490 / 1,545 / 1,788 / 2,700mm |
| Boot capacity (seats up/down) | 385 / 1,267 Iitres | 420 / 1,176 litres |