Volkswagen ID.3 vs Nissan Leaf: running costs and warranty
Decent efficiency and easy charging mean both of these electric cars are cheap to run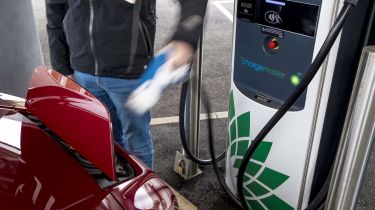 In the 2020/21 tax year, the company-car Benefit-in-Kind (BiK) rate for electric cars is zero, so both models here make a fantastic company car instead of a petrol or diesel model. Yet there are huge savings to be made for private buyers as well.
On an average home electricity rate of 14.4p per kWh, a full charge will cost £8.35 for the Volkswagen and £8.06 for the Nissan. This works out at £493 a year and £466 a year respectively over 12,000 miles, which is a generous mileage for many electric-car drivers. As the difference between the two is less than the cost of a takeaway meal, we'll call it even. In our real-world test, the ID.3 returned 3.5 miles per kWh efficiency and the Leaf 3.7 miles per kWh. This means you can expect just over 200 miles easily in both cars before you have to charge up.   Strong residual values mean you should be able to find competitive PCP finance deals on these cars, or sell them on at a decent price if you're a cash buyer. Our experts predict that the Volkswagen will retain 48.2% of its value after three years, while the Nissan will hold on to 46.1% of its purchase price.
Initially, there was only one model in the ID.3 range (the 1ST Plus) and on a three-year PCP deal with a £4,000 deposit, limited to 10,000 miles a year, it cost you £539 a month. Based on the same deposit amount, the Nissan Leaf e+ in N-Tec trim cost £450 a month on a PCP. That's quite a saving and helps add a lot to the Leaf's appeal for finance buyers. It's more expensive as a cash buyer, though, while cheaper versions of the ID.3 are now available.