Twin test: Volkswagen ID.3 vs Nissan Leaf
Can Volkswagen's electric newcomer, the ID.3, match the well established Nissan Leaf? Read our twin test to find out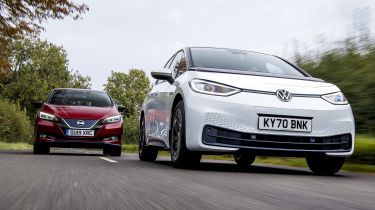 Volkswagen has dipped its toes into the electric-car market before, with the e-Golf and e-up!, but it's only with the launch of the ID.3 that the German brand has put a proper statement of intent out there. The ID.3 will inform all of the brand's future electric cars under the ID badge – so it had better be good.
This is Volkswagen's first bespoke battery-electric family car. Much like the Nissan Leaf, which is a very close competitor, the ID.3 has been designed from the ground up purely as an electric car. It's not like the old e-Golf, which had batteries shoe-horned into a car platform that was originally designed to take petrol and diesel combustion engines.
The Leaf is now in its second generation, as Nissan was one of the first manufacturers to produce a properly usable electric family car. This latest version was a huge improvement over the first model, but which of these family cars is the best choice today? Read on to find out.
Volkswagen ID.3
Nissan Leaf
The Volkswagen ID.3 and Nissan Leaf are similar in size to a Volkswagen Golf, which means they're aimed at families who need a versatile car with enough space for adults, kids and luggage, but that's also easy to drive around town and fit into tight car parks. Read on to find which is best.