Volkswagen ID.3 vs Nissan Leaf: performance and handling
Strong performance from both cars means they're good to drive, but the Volkswagen is more grown-up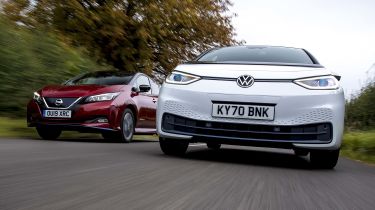 The electric motors in these two cars are pretty closely matched, and with 201bhp in the ID.3 and 214bhp in the Leaf, they're actually pretty fast considering that they're intended to be no more than sensible family cars.
The 0–62mph sprint takes 7.3 seconds in the Volkswagen, but the Leaf's slightly punchier motor means 62mph arrives in 6.9 seconds. You won't notice that tiny time difference on the road, though, so both cars feel quick. The 0-30mph spring in both is even more impressive; you can easily beat hot hatchbacks and some sports cars off the line.
In both models, there's almost no noise from the motor – apart from a barely audible whine as you accelerate. You'll hear much more road and wind noise than any kind of motor sound in both cars here. It means they're really relaxed and quiet on the road. The Leaf's suspension emits a few more clonks and rattles than the ID.3's as you go over bumps in the road, though – and wind noise is louder in the Nissan, too.
The ID.3 is also more comfortable than the Leaf, because its suspension does a better job of soaking up potholes and bumps. It's not perfect, as really harsh bumps still thud into the cabin, but considering the Volkswagen's big 19-inch wheels alloy wheels, it's still pretty impressive.
The Leaf's steering is really light and has virtually no feel or feedback, so it's not as fun as the Volkswagen to drive. The Nissan's biggest sin is its driving position, though, because it's cramped and doesn't have enough adjustment. Tall drivers will feel particularly uncomfortable inside.
Still, both cars are easy to drive and have enough maneuverability to be easy to park and drive in tight city streets. There are lots of safety systems to help, too, including autonomous emergency braking (AEB) in both cars as standard.