Kia Niro PHEV vs MINI Countryman PHEV: running costs and warranty
The Kia is better value for money than the MINI and should cost a little less to run; its warranty is fantastic, too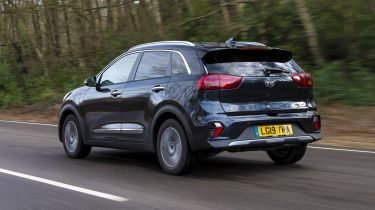 Aside from likely savings in fuel thanks to the Niro's more efficient powertrain, Kia Niro PHEV owners should have less to pay during their ownership. Company-car users in particular will welcome the low 10% Benefit-in-Kind rating, while insurance costs should be reasonable thanks to the Kia's occupation of groups 14 and 15. The MINI's group 27 insurance can be attributed to higher repair costs and its extra performance. Its slightly higher emissions also count against it as a company-car option, too, equating to a 12% BiK rate.
It's worth noting that while you can't spec the Niro PHEV to trouble the £40,000 threshold that brings about a road-tax surcharge in years two to six of ownership, ticking enough boxes on the MINI's options list will do just that. Road-tax payments will increase significantly, so it pays not to get carried away with MINI's famous customisation options and packs. 
Kia wins on the warranty front, too: its industry-leading seven-year/100,000-mile cover applies here and is far more generous than MINI's three-year/unlimited-mileage warranty. It makes a lot of sense to pick the Kia if you plan to keep it for more than the average three years.
Kia's second-place finish overall (and the Niro's fourth-place finish out of 100 cars) in the 2020 Driver Power owner satisfaction survey speaks volumes of its cars as ownership propositions, taking into account everything from servicing costs to comfort. Compare this to MINI's 26th place (out of 30 brands) and it's easy to see the difference. Owners rated their MINIs as cheaper to run than BMWs on average, but not by much.