Kia Niro PHEV vs MINI Countryman PHEV: verdict and specifications
The MINI Countryman is a good car, but can't quite compete with the all-round package that is the Niro PHEV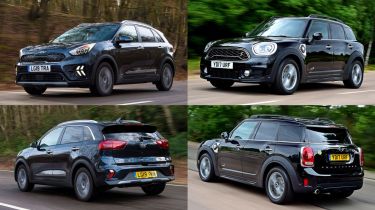 Choosing between these two will only be difficult if you're concerned about badge cachet and driving dynamics. In these two areas, the MINI Countryman is a more convincing prospect despite its extra weight. It's also got a bit more space inside for passengers and luggage, but it's not a big enough advantage to gain traction against the Niro's all-round appeal.
1st: Kia Niro PHEV – 4.0 stars
For the money, the Kia Niro PHEV offers everything you need and nothing you don't: it's a sensible, efficient and easy-to-drive family SUV with all the standard equipment you could hope for when specified in '3' trim. The level of standard equipment puts the MINI to shame – you get much more for your £32,000 overall. It's not as fast, but its plug-in drivetrain does a better job of maximising efficiency.
2nd: MINI Countryman PHEV  – 3.5 stars
It's not a bad car by any means, but the Countryman PHEV feels a little too expensive and not quite clever enough to match the Niro in this test. It's undoubtedly the better car to drive and there's no arguing with the appeal of its image, but when you boil things down to what's most important, the Countryman is worse value overall. There's more space inside for people and luggage and its performance is punchier, but the Kia is the more sensible choice.
Specifications
| Car | Kia Niro PHEV 1.6 GDi 3 | MINI Countryman PHEV Cooper S E ALL4 Classic |
| --- | --- | --- |
| List price | £31,945 | £32,980 |
| Engine | 1.6-litre petrol + electric motor | 1.5-litre petrol + electric motor |
| Transmission | Six-speed auto, front-wheel drive | Six-speed auto, four-wheel drive |
| Battery capacity | 8.9kWh | 7.6kWh |
| Power / torque | 139bhp / 265 Nm | 221bhp / 385Nm |
| 0-60mph | 10.4 seconds | 6.8 seconds |
| Top speed | 107mph | 123mph |
| Charge time (socket / wallbox) | N/a / 2hrs 15mins | 4hrs / 2hrs 30mins |
| Official MPG / CO2 / electric range | 201.8mpg / 31g/km / 30 miles | 166.2mpg / 40g/km / 32miles |
| Road tax / BiK rate  | £140 / 10% | £140 / 12% |
| Length / width / height / wheelbase | 4,355 / 1,805 / 1,545 / 2,700mm | 4,297 / 1,822 / 1,559 / 2,670mm |
| Boot capacity (seats up/down) | 324 / 1,322 litres | 405 / 1,275 litres |