Kia Niro PHEV vs MINI Countryman PHEV: performance and handling
The Kia isn't as fast or as fun as the MINI, but still drives neatly. The MINI is the drivers' choice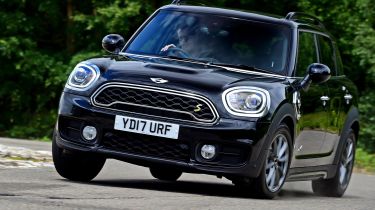 The Niro's powertrain (detailed on the previous page) is geared towards providing a good balance between fuel economy and adequate performance: 139bhp and 265Nm of torque aren't huge numbers, but there's enough shove to keep up with everyday traffic.
The petrol engine's lack of a turbocharger means it can feel a little thrashy when pushed hard, but that's not likely to happen very often in a car such as this. Thankfully, the instant torque from the electric motor helps smoothen out acceleration. Its leisurely 10.4-second 0-62mph sprint is significantly down on the MINI's time, but that's to be expected when the latter produces 221bhp and 385Nm.
The MINI's figures read more like those of a hot hatchback and so are in keeping with the modern MINI brand image. It's much faster than the Kia on paper: 0-62mph takes 6.8 seconds despite the car's considerable 1,760kg weight. 
The Niro is the softer of the two, but still has a firmer edge to its ride; it feels most at home on smoother roads, but is better at isolating its occupants from lumps and bumps than the MINI. However, while the Kia is simply easy to drive without being overly communicative, the MINI offers much more responsive steering and feels altogether more agile. It's not quite as lively as its lighter, non-plug-in counterparts, but still gives keen drivers something to enjoy.
As a comfortable, easy-to-drive family car, the Niro meets its brief perfectly; the MINI does almost as good a job but with a firmer ride and more driver appeal. Which you prefer will be down to personal preference, but neither should disappoint.