Skoda Superb Estate iV vs Volkswagen Passat GTE Estate: verdict and specs
These two car are predictably closely matched and predictably excellent, but the Skoda wins on account of offering better value for money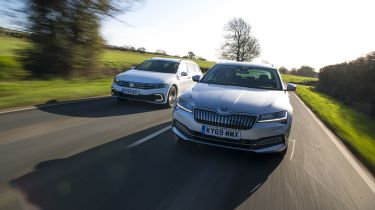 There are aspects of the Passat that could sway you towards it, despite costs being in the Skoda's favour: namely the better interior feel and aesthetic, and more generous safety equipment. For all that, the Superb is usefully cheaper to buy and even comes with the matrix LED lights and adaptive dampers that cost extra on the Passat. It's not just a no-brainer to take the win over the Passat, it's also our favourite large plug-in hybrid car and one of the best family cars out there, plug-in or otherwise.
1st: Skoda Superb iV SE L Estate – 4.5 stars
The Skoda Superb Estate is hard to fault as a family wagon, whether you fancy it in plug-in hybrid form or not. But the plug-in hybrid iV really is the best of all worlds. A huge, functional estate body, lashings of standard equipment, great electric running capability and a surprisingly efficient petrol engine thereafter, not to mention the cheap company-car tax and general running costs. We love it, and we're absolutely sure that you will, too.
2nd: VW Passat Estate GTE Estate – 4 stars
The Passat is a truly great car. It blends a classy finish with great practicality and efficiency, and – while a bit pricey compared to the Superb – is good value compared to plenty of alternatives, including the Volvo V60 and more. The standard safety equipment is great, the interior is particularly lovely and it promises to be a relaxing, surprisingly rapid yet cheap-to-run family car. Just not as cheap as the equally excellent Superb, is all.
Specifications
| Car | Skoda Superb iV Estate SE L | Volkswagen Passat GTE Estate |
| --- | --- | --- |
| List price | £37,370 | £38,310 |
| Monthly finance (PCP / business lease) | £473* / £349** | £521* / £404** |
| Engine | 1.4-litre petrol + electric motor | 1.4-litre petrol + electric motor |
| Transmission | Six-speed auto, front-drive | Six-speed auto, front-drive |
| Battery capacity | 13kWh | 13kWh |
| Power / torque | 215bhp / 400Nm | 215bhp / 400Nm |
| 0-62mph | 7.8 seconds | 7.6 seconds |
| Top speed | 138mph | 138mph |
| Braking 70-0 / 60-0 / 30-0mph | 50.5 / 35.4 / 10.1 metres | 47.4 / 35.5 / 8.8 metres |
| 100% charge cost at 14p/kWh | £1.82 | £1.82 |
| Charge time (wallbox / socket) | 3hrs 30mins / 5hrs 45mins | 3hrs 30mins / 5hrs 45mins |
| Official MPG / CO2 / electric range | 188mpg / 37g/km / 34 miles | 176mpg / 36g/km / 34 miles |
| On-test MPG / electric range | 42mpg / 28 miles | 38mpg / 26 miles |
| Road tax / BiK rate  | £140 / 10% | £465 / 10% |
| Length / width / height / wheelbase | 4,856 / 2,080 / 1,477 / 2,841mm | 4,888 / 2,083 / 1,527 / 2,841mm |
| Boot capacity (seats up / down) | 510 / 1,800 litres | 483 / 1,613 litres |
* PCP estimate, based on £5,000 deposit, 36-month contract and 10,000-mile annual allowance
** Business contract hire estimate, based on six-month up-front payment, 36-month contract and 10,000-mile annual allowance