Twin test: Skoda Superb Estate iV vs Volkswagen Passat GTE Estate
Practical and cost-effective plug-in hybrid estate cars from the VW Group stable go head-to-head in our twin test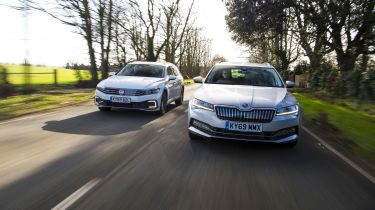 These may well be two of the best cars for real-world motoring you can buy right now. They're spacious, fast, stuffed with comforts and luxuries, offer both pure electric and petrol power, and are compelling value for both company-car users and private buyers. Perhaps we should actually be asking if there's anything they don't do, but before we consider that, let's run through the significant figures behind these plug-in hybrid (PHEV) wagons.     The Skoda Superb iV and Volkswagen Passat GTE estates use the same mechanical platform, the same 154bhp 1.4-litre turbocharged petrol engine (with an electric motor that brings combined power up to 215bhp) and the same 13kWh battery. The Passat has an official electric-only range of 35 miles to the Superb's 34, and while you can have the plug-in Superb and Passat in hatchback forms, we're testing the more practical estates – each in the most affordable trim level they're available in.
Skoda Superb Estate iV SE L
Pros: Huge boot, great infotainment, decent real-world economy
Cons: Lots of body lean, high finance cost, no steering-wheel paddles
Volkswagen Passat GTE
Pros: Good residuals, classy interior design, sportier than the Skoda
Cons: Expensive next to Skoda, lacks a truly premium feel, not as fun as you might expect of a GTE
The Skoda seems to have one up on the Volkswagen given its lower purchase price, but with equipment varying between the two, it's not so clear-cut. Read on to find out if these two family-friendly PHEVs are as good as they seem on paper.