Skoda Superb Estate iV vs Volkswagen Passat GTE Estate: interior and infotainment
The Passat has a fractionally more interesting and classy-looking interior, but both are comfortable and pleasant places to spend time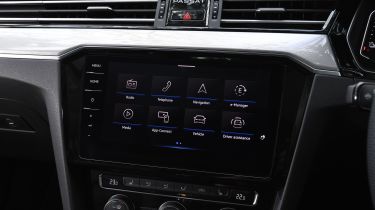 The Volkswagen Passat's interior has a noticeably more interesting finish, with a subtle but classy feeling blend of material colours and textures, characterised by a horizontal line running across the dashboard and through the vents. It's a fairly sober design, but it does feel classier than the Superb, which is just as comfortable and solidly put together but also a touch drabber.   For all that, both cars get leather upholstery with heated seats, as well as powered seat and lumbar adjustment for the driver. Both are really comfortable as a result and will be a great choice even for very tall drivers. Both protagonists also get an eight-inch colour touchscreen with navigation and charger search function, as well as Bluetooth, digital radio and multiple USB sockets.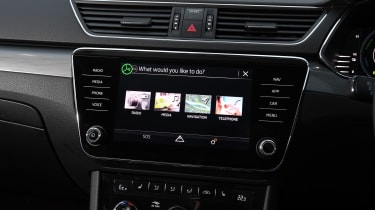 The Passat also has standard Android Auto and wireless Apple CarPlay. Upgrading to the 9.2-inch touchscreen adds that same smartphone integration to the Superb (above), and also brings voice control, at a cost of £1,120. The same upgrade in the Passat costs £2,200, but also brings the fully configurable digital driver's readout that completes a very high-tech interior.
The digital driver's readout (called 'virtual cockpit' in Volkswagen and Skoda-speak) is a further £465 in the Superb. The system software is logical to navigate and quick to respond, so even the standard system with its smaller screen is decent to live with. If you do value your technology and phone connectivity, it could well be worth upgrading.