Skoda Superb Estate iV vs Volkswagen Passat GTE Estate: running costs and warranty
The Skoda is a bit of a no-brainer on most fronts, whether you're a retail buyer or business user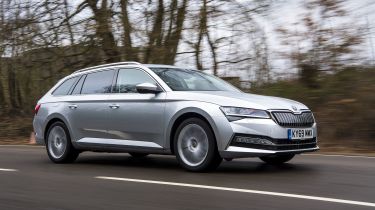 There are very few monetary reasons to opt for the Passat over the Superb. The Skoda has a £2,000 cheaper list price and lower monthly finance payments. A £5,000 deposit on a 36-month PCP deal with a 10,000-mile annual allowance sees the Skoda come in at £473 per month, while the Volkswagen costs £521 – although the Passat's optional final payment is some £500 lower than the Superb's, at just under £14,200.   The Skoda is also cheaper to lease for business users, coming in at £349 versus £404 a month for the Passat, assuming six months' rental in advance on a three-year contract with a 10,000-mile annual allowance. That's significant not only for those who own a business or run a fleet, but also for those who pay company-car tax. Many companies issue a list of eligible cars to their employees and low lease cost is often a deciding factor in what appears there.
If you or your company are considering one of these cars, the Skoda is still the better bet, not only because it's cheaper to buy, but also because it loses less value over its life. After three years and 36,000 miles, the experts at CAP reckon both cars will be worth a smidgen over £15,400, meaning the Skoda will have lost just over £20,500 while the Volkswagen will have lost nearly £23,000.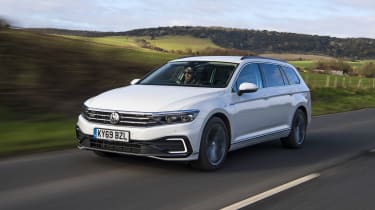 And if you're an employee looking at Benefit-in-Kind tax, the Skoda's lower P11D value makes it more cost-effective here, too, but not by much. At £894 a year compared to £918 for a 40% taxpayer in the 2020/21 financial year, the difference is small enough that you may want to plump for the slightly posher-feeling Passat instead.
Given that the Skoda gets the adaptive dampers and full LED matrix headlights that Volkswagen charges £895 and £1,515 respectively for, and even considering the few items the Passat gets that the Superb doesn't (such as three-zone climate control), the Superb still looks fantastic value for money no matter how you're buying it.
Oddly, the Skoda is a little more expensive to insure, coming in at £461 a year for our average driver, as opposed to £409 for the Volkswagen. Warranties cover the cars for three years/60,000 miles, while their batteries are covered for eight years/100,000 miles.