Skoda Superb Estate iV vs Volkswagen Passat GTE Estate: performance and handling
The Passat gives more of a nod towards performance and handling, but in reality both cars are best as comfortable cruisers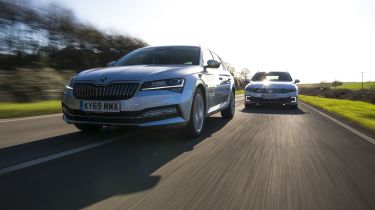 There are some notable differences between these two cars, despite their obvious similarities. Both have a 1.4-litre turbocharged petrol engine and electric motor, sending a combined 215bhp to the front wheels. But the Passat gets steering-wheel paddles for better control of the six-speed dual-clutch automatic gearbox, plus a 'GTE' drive mode that sharpens up throttle response even more than Sport mode for a fizzier drive. The Superb does without these, but gets adaptive suspension as standard – it's a circa-£900 option on the Passat.   As you'd expect given the cloned powertrain, in performance tests both cars managed a near-identical 0-60mph time. The Passat did it in seven seconds exactly and the Superb in 7.1, while both completed the mid-range 30-70mph sprint in a healthy 5.8 seconds. In practice, these cars feel gutsier than anyone would expect of a large, efficiency-focused family estate, but the real satisfaction is in how smooth and relaxing they are.
You can do motorway speeds easily in pure-electric mode, but the 1.4-litre petrol is so quiet and smooth that you barely notice it on a light throttle; both cars make for fantastic motorway cruisers. What is noticeable is that the Superb feels a little heavier in corners, with more body float and lean in Comfort and Normal modes, but stick it in Sport and it does tighten up to deliver neutral, fluid progress that's confidence-inspiring if far from thrilling.
The Passat tries to be sportier with its GTE mode that brings a piped-in exhaust note and slightly sharper turn-in, but in reality it's still a heavy car that feels stable and grippy but not terribly entertaining. Not many buyers are likely to expect sporty things of a big estate, anyway, but they'll appreciate the excellent refinement and comfort of these two. The Superb has the edge, with a softer ride courtesy of those standard adaptive dampers, but neither is at all uncomfortable.
Ultimately, the Passat's marginally sportier GTE edge doesn't really add much to the overall abilities of the car; we'd say that the Superb's adaptive dampers are a more valuable standard addition given the comfort-orientated nature of these big estates.