Skoda Superb Estate iV vs Volkswagen Passat GTE Estate: space and practicality
The Skoda manages to offer a little extra boot space over the Passat, but both are fantastic large family cars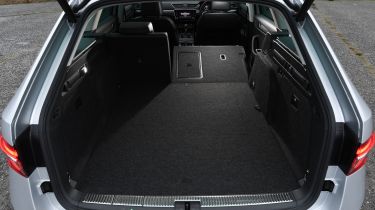 When you look at big estates like these, you wonder why so many motorists want an SUV. With huge boots that are easy to load thanks to a low lip and virtually limousine-like space in the rear seats, they're both seriously practical and comfortable ways to go about family motoring. Mind you, they'll only tow up to 1,600kg; there are plenty of plug-in and full hybrid SUVs that'll do better than that, including the Mitsubishi Outlander PHEV.
Both cars' boots can be opened remotely using the key, but the Skoda does score one over the Volkswagen with its standard keyless entry, which includes the rear doors and boot. You have to step up a trim level in both cars (or pay extra – £155 on the Skoda, but an eye-watering £600 on the Passat) to get 'virtual pedal' operation, which lets you open the boot by waving your foot under the rear bumper. Given that we find the system hit-and-miss at best, and actually quite awkward if you've got your hands full of bags and kids, we wouldn't bother on either car.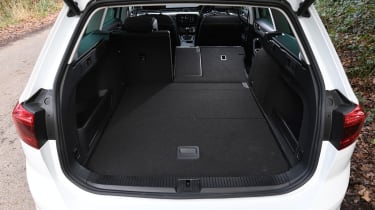 The Skoda also betters the Volkswagen with a fractionally larger boot capacity of 510 litres compared to 480 (with seats up). In reality, the difference is marginal and you'll be able to load bulky items easily into either car. Mind you, the Passat's rear seats (above) split three ways 40:20:40, while the Superb has a more conventional 60:40 split, albeit in addition to a front passenger seat that folds down flat if you tick a £105 option box.
Both have dedicated cable storage under the boot floor, which is great, as it leaves the boot free of wires and charging paraphernalia. Those sitting in the back will be comfortable thanks to wide seat squabs, plentiful leg and headroom and standard central rear armrest. You can seat three, of course, but the middle seat has a raised, firm cushion and the vents intrude slightly into a central passenger's knee space.   Three-zone climate control is included on the Passat, which means two separate zones up front and another for rear passengers so that they can set their own temperature. The same function is a £315 option in the Skoda. There's plenty of space to store your odds and ends up front, with decent-sized door pockets and glovebox, as well as hidden storage in the centre front armrest.