Renault Megane electric: first pictures of prototype testing appear
Production version of the new electric Megane, which was previewed by the eVISION concept, has been spotted testing
Spy photographers have captured the first images of the upcoming fully electric Renault Megane being tested on public roads. The new car is set to adopt more of a crossover SUV stance than the existing Megane, as well as making the move to solely electric power.
We'll see it undisguised later in 2021, but for now these pictures give a good idea of the direction Renault is headed with the car, which will sit on the same 'CMF-EV' mechanical platform as the Ariya family SUV from Renault's alliance partner Nissan. It'll face a broad range of rivals when it does go on sale, including the Kia e-Niro, Volkswagen ID.4 and Skoda Enyaq.
Outside, its dimensions will be close to the current petrol and hybrid-engined Captur SUV, but with more space inside due to the absence of a combustion engine, interior space should be more comparable to what's on offer in the Kadjar SUV or Scenic MPV of today.
The electric Megane is set to form a key pillar of Renault's plan to electrify in the coming years; it'll be one of seven zero-emissions models the French brand is set to launch in the near future. Another could be a production version of the reborn Renault 5 concept that caused such a stir when it was revealed in January 2021.
Renault Megane eVISION concept
The Megane eVISION concept car, revealed in October 2020, hints at what to expect from the production version of the electric Megane. In fact, it's safe to assume that the production car won't be too far removed from the concept you see here. Renault says the concept is 4.21 metres long, but boasts "best-in-class roominess", while its 60kWh battery has been made extra-thin to allow for a lower, more aerodynamic design.
There's support for 130kW rapid DC charging and 22kW AC charging, and Renault says the Megane "offers road and motorway performance that is generally only found in top-of-the-range cars". Power comes from a 217bhp electric motor driving the front wheels.
Renault says that it combines elements of city-car, SUV and coupe styling, with bold, animated full-width lighting front and rear, a 'floating' roof and a highly sculptural clamshell bonnet. The car also features flush doorhandles and aerodynamic 20-inch wheels, but these features might not be viable for production.
The car's interior wasn't unveiled, but Renault mentions that it has been designed with spaciousness in mind. A "slim and sleek instrument panel" features along with new storage solutions, but we'll have to wait to see what this entails. 
Renault also pointed out that the new platform underpinning the Megane brings with it a number of technological innovations. These include batteries that form part of the car's structure, allowing for more flexibility in the design of future models, along with a flat floor, scope for long wheelbases and the ability to fit two electric motors for all-wheel-drive options.
Renault Morphoz concept
The Megane eVision concept arrived several months after the Renault Morphoz concept, which first showed the brand's intentions for its electrified future. The Morphoz features what Renault calls a "revolutionary solution" to electric-car range anxiety – the ability to lengthen to make space for additional batteries. While this setup is unlikely to come to fruition in the production car, many of the styling cues should feature. The production car will sit on the same platform as the Nissan Ariya.
Speaking with DrivingElectric in March 2020, Renault head of design Laurens van den Acker said: "I hope we can make [the production model] look more like a Morphoz. It was an interesting exercise, because I wanted to make sure our electric cars have plenty of character, even though they might not have the usual characteristics or elements a traditional car has, like a big grille. "It has quite a sleek silhouette, with a lot of aerodynamic treatment at the rear – and I think this is a sign of things to come."
Previously, it was confirmed that Renault's CMF-EV electric-car platform will underpin two electric vehicles by 2022. Speaking to DrivingElectric, Gilles Normand, Renault's senior vice-president for electric vehicles and mobility services said: "The platform is modular and flexible and can be used for several applications. It'll allow us two cars to sit above the ZOE. The more cars you have, the better the scale effect."
While Renault has so far hinted at only two new electric models, the flexibility of the architecture ensures the brand could use the technology on myriad vehicles. "Morphoz shows our flexibility," Normand told us. "[CMF-EV] is a platform that can accommodate different batteries; thin batteries or tall batteries – for crossovers or sedans. The capability of EV means it has the ability to go to every segment."
By using flexible panels and hinged bodywork, the Morphoz concept can stretch from 4.4 to 4.8 metres at the flick of a switch. This opens up an area in the car's floorpan, into which the bigger battery can be inserted. This boosts the standard 40kWh battery with an additional 50kWh, taking the available range from 249 miles to 435 miles; as soon as the user no longer needs the additional range, the cells can be removed and the car returned to its starting position.
The shorter body is referred to as 'City' mode; lengthening the Morphoz into its 'Travel' configuration also reveals a more practical interior and a larger boot. The concept has only four seats, although the front passenger seat hinges at the base allowing the occupant to face rearwards should they wish.
The interior is made from recycled and sustainable materials, including a floor built from used yoghurt pots, plus wood on the doors and wool for the seats. The cabin centres on a large transmission tunnel, which houses a wireless phone charger and a screen for the rear-seat passengers. The dials comprise a series of digital displays and there's a 10.2-inch screen on the dashboard; the car can be locked and unlocked using artificial intelligence (AI).
Renault Megane hybrid: E-TECH drivetrain comes to hatch and estate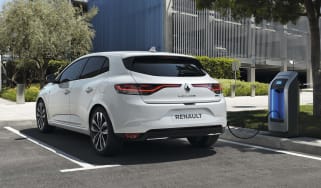 Renault Megane hybrid: E-TECH drivetrain comes to hatch and estate
Best plug-in hybrid SUVs 2021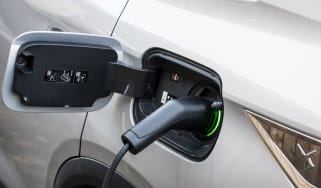 Best plug-in hybrid SUVs 2021
A good plug-in hybrid SUV should combine low running costs with excellent practicality. These are some of the best on sale right now
Where can I buy hydrogen and where is my nearest hydrogen filling station?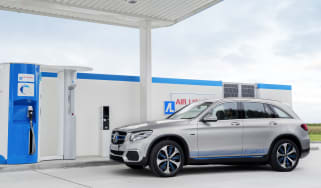 Where can I buy hydrogen and where is my nearest hydrogen filling station?
A guide to where you can find UK hydrogen fuel stations for filling up a hydrogen fuel-cell car
Best electric SUVs 2021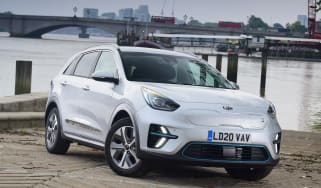 Best electric SUVs 2021
Our selection of the best electric SUVs you can buy features cars that promise to mix style, practicality and rock-bottom running costs