Renault Megane E-TECH Electric crossover unveiled
Renault's new electric crossover can cover up to 292 miles on a single charge; pre-orders will begin in February next year, with general sales starting early in 2023
This is the Renault Megane E-TECH Electric: the French brand's new all-electric crossover, and rival to the likes of the Hyundai Ioniq 5, Ford Mustang Mach-E and Volkswagen ID.4.
Under the bodywork is the newly developed CMF-EV platform, specifically designed for use on electric cars. It also serves as the underpinnings for the Ariya family SUV from Renault's alliance partner Nissan. The benefit of the EV-dedicated platform is that Renault has been able to maximise cabin space thanks to short overhangs at the front and rear, a flat floor inside and a 2.7-metre-long wheelbase - the same as a VW ID.4's.
There's a choice of two powertrains for Megane E-TECH Electric; entry-level models feature a single front axle-mounted electric motor producing 129bhp and 250Nm of torque, powered by a 40kWh battery that should provide enough juice to cover around 186 miles – 130 miles less than the claimed maximum range for the entry-level Kia EV6. 
The other setup for the Megane E-TECH Electric equips the car with a larger 60kWh battery and a more powerful electric motor, which pumps out 215bhp and 300Nm of torque. Renault claims this version of the new electric crossover SUV will do 0-62mph in 7.4 seconds, and can cover up to 292 miles on a single charge.
This version also gets DC ultra-rapid charging capabilities, with a maximum DC charging speed of 130kW that should allow you add 124 miles of range in 30 minutes if you use a fast enough DC public charging point. There is the option of a 22kW on-board charger for both powertrains, as well, for those with access to a much faster 11 or 22kW home wallbox, or who regularly use an AC public charging point capable of such speeds. How much it will cost to upgrade powertrains and charging capabilities remains unclear, as Renault has not disclosed any pricing information for the new electric crossover yet.
We do know that the Megane E-TECH Electric will get LED head and taillights as standard, as well as a 12.3-inch digital driver's display. Entry-level models will come equipped with a 9-inch central infotainment touchscreen, however, higher spec versions feature a 12-inch unit. Plus, there will be a choice of three driving modes on board: Eco, Comfort and Sport, which will alter the car's steering, accelerator pedal, interior lighting and driver's display. 
The French brand's new electric crossover also features a new infotainment system – OpenR Link – which like the system in the Polestar 2, has been developed with Google and is based on Android Automotive OS. You can therefore use Google Maps and Google's virtual assistant without using a smartphone. But, you do get Android Auto and Apple CarPlay connectivity built-in, too. 
The upholstery is made from 100% recycled materials, and at the end of its lifecycle, Renault claims up to 95% of the Megane E-TECH Electric will be recycled. Boot space in the new Renault tops out at 440 litres, with more space available with the rear seats folded down and front passenger seat folded up.
While Renault hasn't disclosed any pricing information about the Megane E-TECH Electric just yet, it will be available in three trim levels – Equilibre, Techno and Iconic – a choice of six colours, with the option of a two-tone paint finish and either 18 or 20-inch alloy wheels.
Top 10 best plug-in hybrid SUVs 2022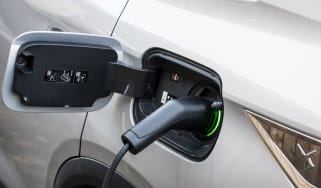 Top 10 best plug-in hybrid SUVs 2022
The finest plug-in hybrid SUVs offer low running costs, enough electric range for daily use and excellent practicality. These are the best plug-in hyb…
Top 10 best plug-in hybrid cars 2022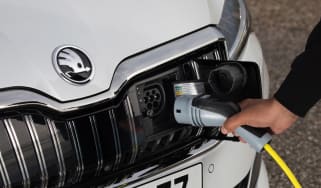 Top 10 best plug-in hybrid cars 2022
Plug-in hybrid cars are great for keeping fuel and company-car tax bills low. Here are the best ones to buy in the UK right now
Top 10 best luxury electric cars 2022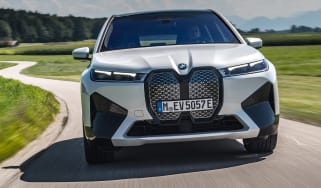 Top 10 best luxury electric cars 2022
From Audi to Tesla, here are our top picks of the most luxurious zero-emissions motoring options on the market right now