Toyota Highlander review
Extremely comfortable to drive and very versatile, the seven-seater Toyota Highlander hybrid SUV is nonetheless slightly outclassed by similarly priced rivals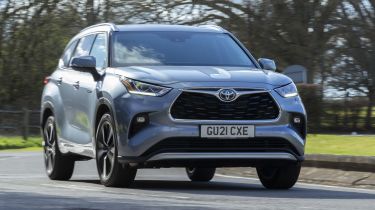 Pros
Good interior quality
Comfortable ride
Practical
Cons
Outdated infotainment
High finance prices
CVT gearbox
| Car type | Fuel economy | CO2 emissions | 0-62mph |
| --- | --- | --- | --- |
| Hybrid | 39-40mpg | 159-160g/km | 8.3s |
Toyota has a long history with hybrids, and its latest is an electrified version of the Highlander family SUV, which was introduced to the UK for the first time in 2021, only as a hybrid.
While it may not have been available in the UK until now, the Highlander nameplate is a veteran of the 'full-size' SUV class, with 21 years of sales in America, Australia and Japan. Although it arrives at a time when SUVs continue to increase in popularity, the UK's large SUV market is dominated by premium manufacturers like Audi, Land Rover and Volvo producing hybrid versions of their top sellers.
Even Toyota already offers UK customers plenty of hybrid SUVs, including the RAV4 and C-HR, and a seven-seater in the form of the Land Cruiser. But, unlike its other hybrid SUVs, the Highlander is only available in seven-seater form. Plus, it's a far more road-focused package compared to the more rough-and-ready Land Cruiser. 
Regardless of the trim level you select, all new Highlanders use the same 2.5-litre four-cylinder petrol engine, paired to a small battery and motors. Pulling away, the Highlander's electric motors and 239Nm of torque means there's no need for you to break out the lead foot to get the seven-seater behemoth off the line. 
In terms of fuel economy, Toyota claims the Highlander will return 39 to nearly 40mpg, which is adequate for an SUV of this size that isn't a plug-in hybrid. However, because it isn't a plug-in, the Highlander can only cover short distances on electric power alone. But the motors can still drive the wheels when the engine is being used as a generator for the battery. There are other quirks, most of which come from the familiar CVT gearbox. 
The Highlander can get from 0-62mph in 8.3 seconds and reach a top speed of 111mph. It does features a 'sport' mode, although you'll never feel inclined to take it out of normal or even eco mode, as its extremely comfortable ride and hybrid system best suit driving around town and cruising on the motorway. The only noises intruding into the cabin are from the wind over passing over the side mirrors at higher speeds. Where it falls down is when you encounter a curvy B-road, which is when the Highlander's two-tonne weight can cause it to wallow through bends.
However, Toyota doesn't pitch the Highlander as a sporty SUV. Instead, it hopes to sell on its excellent practicality and seven-seat versatility. You get 1,909 litres of space when both rows of rear seats are down, and 658 litres with only the third row of seats laid flat. Even with all three rows up, you can 332 litres, which is more than some family hatchbacks can manage.
We also can't knock the Highlander's superb build quality, with leather seats across all three rows and plenty of soft-touch plastics. Even in the basic Excel trim, you get heated front seats and steering wheel, three-zone climate control, a glass panoramic roof and a power-operated boot opening. The higher level Excel Premium adds a head-up display and top-down parking camera, among other features. 
But there are some compromises. Highlanders sold in the UK come with just an eight-inch touchscreen, which next to the likes of this car's premium European competitors, feels small and dated. That could easily have been avoided, as Highlanders sold in America are fitted with a larger 12.3-inch setup.
Looking solely at starting prices, at £50,595 the Highlander undercuts its seven-seater hybrid rival, the Volvo XC90, by a hefty margin. But if you're planning to lease your next seven-seater SUV, putting a 10% deposit down on a Highlander Excel over 36 months with 10,000 miles, you'll pay £774 per month. That puts it in the same monthly price bracket as the XC90, and those looking for a vehicle of this size may be inclined to go for the more prestigious competition – especially if you're not exclusively looking for seven seats in your SUV.