New MG ZS EV is the 2022 DrivingElectric Car of the Year
The electric Fiat 500, BMW iX, Citroen Ami and Hyundai Ioniq 5 were among the winners in this year's celebration of the best electric and hybrid cars on sale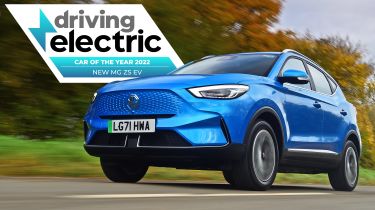 The facelifted MG ZS EV has been named Car of the Year and Best Value Electric Car at the 2022 DrivingElectric awards, beating a host of new and updated models on the market thanks to its exceptional value for money and improved range of up to 273 miles, while remaining one of the cheapest zero-emissions SUV on sale in the UK.
"The new MG ZS EV is quite simply the best-value electric car on sale," said DrivingElectric's editor Richard Ingram. "It addresses arguably the single biggest barrier to entry for EV buyers: price. As a package, the ZS simply can't be beaten: long range, impressive efficiency and a lengthy kit list, all wrapped up in a practical SUV body. Our judges were unanimous – it encompasses everything that's important to electric-car buyers in 2022."
CLICK HERE TO READ THE FULL LIST OF AWARD WINNERS
Meanwhile, last year's Car of the Year the Fiat 500 was named Best Urban Electric Car, the quirky Citroen Ami two-seat quadricycle won the Innovation Award and the Skoda Enyaq iV was crowned Best Family Electric Car. At the other end of the EV spectrum, the BMW iX took home the title of the Best Luxury Electric Car.
The Hyundai Ioniq 5 won two awards: Best Long-Distance Electric Car and the Technology Award. Ingram said of the Ioniq 5's capabilities: "With its intuitive infotainment system, long range, 800-volt electrics and vehicle-to-load (V2L) capability, this is an EV not just for today, but for 2022 and beyond. The Ioniq 5 is as close to future-proofed as anything currently on the market."
Elsewhere, DrivingElectric readers voted the Kia EV6 as their favourite electric car of the year and declared the forthcoming Nissan Ariya to be their most anticipated electric car of 2022. The awards also celebrated the advancements in the electric commercial-vehicle market, awarding the titles of Best Small Electric Van and Best Medium Electric Van jointly to the latest zero-emissions LCVs from Citroen, Peugeot, Toyota and Vauxhall.
To find out the awards winners in the hybrid and plug-in hybrid categories, as well as the brands that won Best Universal Charging Network and Best EV Home Charger, click here.
First contact: facelifted Kia EV6 will look even more like a UFO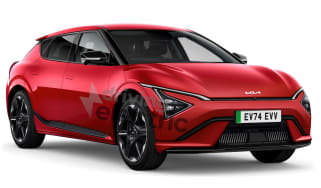 First contact: facelifted Kia EV6 will look even more like a UFO
Top 10 best electric family cars 2023/2024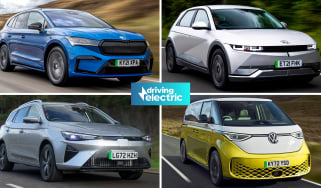 Top 10 best electric family cars 2023/2024
First contact: facelifted Kia EV6 will look even more like a UFO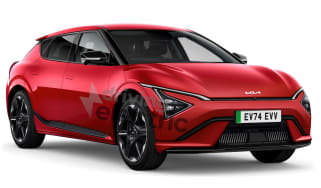 First contact: facelifted Kia EV6 will look even more like a UFO
Kia is readying an update for the EV6 crossover, which is set to include a new face and tech from the larger EV9
Electric Renault Twingo revealed as £17k rival to Citroen e-C3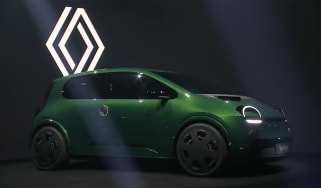 Electric Renault Twingo revealed as £17k rival to Citroen e-C3
Renault has unveiled its smallest EV yet; a sub £20k city car with a claimed high level of efficiency