Mitsubishi Outlander PHEV Commercial (2014-2021) range, MPG, CO2 & charging
The Mitsubishi Outlander PHEV Commercial delivers the same low running costs as the SUV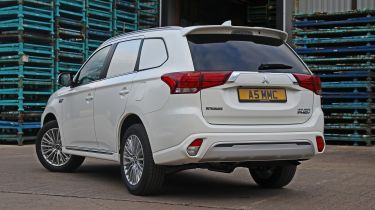 Under the metal, the Outlander PHEV Commercial uses the same running gear as the Outlander PHEV SUV, so it'll come as no surprise to discover that it delivers the same range, economy and emissions. An update at the end of 2018 saw the 2.0-litre petrol engine replaced by a more efficient and more powerful 2.4-litre, four-cylinder petrol. Mitsubishi claims fuel economy of 140mpg for the Outlander PHEV, with official CO2 emissions of 46g/km. Of course, real-world economy depends on how often you plug the Mitsubishi in to charge up and how far you travel on battery power alone.
Mitsubishi Outlander PHEV Commercial range
On a full charge, the Outlander PHEV Commercial will manage a claimed 28 miles on fully electric power. This figure improves in city driving to 35 miles according to Mitsubishi
Charge time
There's a standard Type 2 socket and a fast-charging CHAdeMO socket on the Outlander, and it comes with a 10A, 240V five-metre-long charging cable. Charging the 13.8kWh battery takes around five hours from a domestic socket, while a wallbox home charger can do it in three and a half hours. The fastest charging is from high-voltage public charging stations, which can take a flat battery from zero to 80% charge in around 25 minutes. The nature of how batteries work means it takes longer to get from 80 to 100% full, but a full top-up should take an extra 20-30 minutes on top of that.