Mitsubishi Outlander PHEV Commercial (2019-2021) running costs
Everyday running costs are good, but the Mitsubishi Outlander PHEV Commercial doesn't get the same tax benefits as the SUV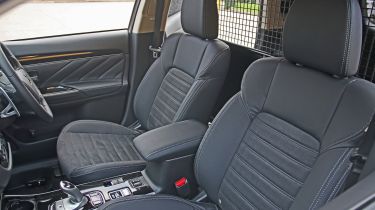 The on-the-road price for the Mitsubishi Outlander PHEV Commercial excludes VAT, but does include VED, a First Registration Fee and takes into account the plug-in van grant: this applies an £8,000 discount to any van with CO2 emissions below 75g/km that can travel at least 10 miles on electric power alone.
That means the Outlander meets the same criteria as pure electric vans such as the Renault Kangoo Z.E. and Nissan e-NV200. With the PiCG undergoing frequent reviews, there's nothing to stop the van grant being changed in the future. But with uptake of electric and hybrid commercial vehicles still relatively low, it stays in place for now.
Economy and emissions figures for the Outlander PHEV Commercial are the same as they for the SUV, so 139.7mpg is the quoted economy figure and CO2 emissions are rated at 46g/km. However, because commercial vehicles taxed at a fixed rate, the benefits of the Outlander PHEV Commercial aren't as great as they are for the SUV version.
Road tax is set at £275 a year, while Benefit-in-Kind rates are also fixed, currently at £3,430 for the 2020/2021 tax year. The only area where you'll see business costs drop is fuel duty. This is where plugging the Outlander PHEV Commercial in to charge will pay dividends, because the electricity you use isn't liable to taxation, whereas petrol is. Basically, charge the Outlander PHEV Commercial wherever possible, and you'll cut the tax costs associated with using petrol.
Mitsubishi Outlander PHEV Commercial insurance group
The older 2.0-litre Outlander PHEV Commercial appeared in insurance group 44, so the 2.4-litre model will likely appear in the same category.
Warranty
There's a five-year warranty for the Outlander PHEV Commercial, but it only covers the vehicle for 62,500 miles. This means the Outlander PHEV is covered for the length of its service period, which makes sense, but puts Mitsubishi behind rivals such as Kia and Hyundai, which offer seven-year/100,000-mile and five-year/unlimited-mileage cover respectively. Still, neither of these makers offer anything like the Outlander Commercial. Mitsubishi also offers extended warranty cover, called Gold, Silver or Bronze. As the names suggest, there are different levels of cover depending on which level you go for. The cost is determined by the dealer and accounts for the age and mileage of your vehicle.
Servicing
The Outlander PHEV needs servicing every year or 12,500 miles, whichever comes first. And Mitsubishi offers a service plan that covers the first three checks for around £525 (including VAT).
Road tax
One sticking point with the Outlander PHEV Commercial is that it doesn't qualify for lower road tax like the SUV version, because it's classified as a light commercial vehicle (LCV). That means annual road tax is £275 a year, the same as for all LCVs.