Mitsubishi Outlander PHEV Commercial (2014-2021) engines, drive & performance
The Mitsubishi Outlander PHEV Commercial is just like the SUV to drive: comfortable, but not fun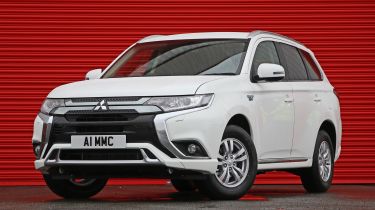 The Outlander PHEV isn't the most exciting car to drive, but it does at least have comfort on its side. The addition of the 2.4-litre engine has seen power increase, so the car feels more responsive than before, while the bigger battery means owners can enjoy more time driving in full electric mode before the engine cuts in.
And this is where the Outlander excels, because it's a quiet, refined and comfortable SUV. It doesn't set the world alight with searing performance, while the weight of the electric system means the handling is pretty woollen. But replacing the diesel engine with hybrid power brings a new level of refinement that means the Commercial model is arguably the most comfortable and upmarket-feeling light commercial vehicle on sale.
Mitsubishi Outlander PHEV Commercial engine, 0-62mph and acceleration
The Outlander PHEV Commercial delivers the same performance as the SUV. That means the 2.4-litre model with more powerful electric motors produces a combined power output of 197bhp. This gives the Outlander a 0-62mph time of 10.5 seconds, while top speed is 106mph. Mitsubishi also quotes an all-electric top speed of 84mph.
However, you're unlikely to want to try any top-speed runs in the Outlander PHEV. The CVT gearbox sends engine revs sky high whenever you accelerate, and while the noise isn't exactly loud, it still breaks the calm of the cabin when it happens.
Handling
The Outlander PHEV Commercial isn't a sporty drive, but it's comfortable. Thanks to its more sophisticated road car underpinnings, it won't bounce around as much as a van, whether you're driving at low or high speeds. Light steering means the Outlander is a piece of cake to drive around town, but there's no feedback to speak of if you push it a little harder. Take it easy, and the Outlander PHEV Commercial is more comfortable and pleasant than a LCV has any right to be.
The other bonus the Outlander offers over its electric LCV rivals is four-wheel drive. The system sees the engine and one electric motor driving the front wheels, while the second electric motor drives the rears, providing power when the fronts lose grip. It's not the optimum set-up for off-road use, but it's good enough for most needs, while fitting a set of dedicated off-road tyres will boost its ability, although economy will take a hit.