Mitsubishi Outlander PHEV Commercial (2014-2021) interior & comfort
The Mitsubishi Outlander PHEV Commercial makes for a refined and upmarket LCV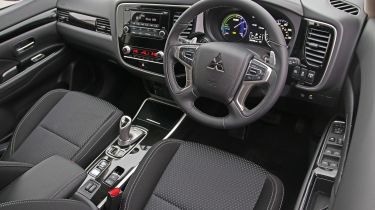 The main differences between the Outlander PHEV Commercial and the SUV version are the elimination of the back seats and the blanking of the side windows. This is necessary to qualify the Outlander as a light commercial vehicle (LCV).
As a result, the Outlander Commercial's front seats are identical to the SUV. There's a mesh guard dividing the seats from the load area, but that means the front seats can't go back as far or recline as much as they can in the SUV. Other than that, a lack of over-the-shoulder visibility is the only other clue to this commercial version's different layout.
Mitsubishi Outlander PHEV Commercial dashboard
The dashboard is carried over wholesale from the SUV variant. So you get instruments that feature an energy meter next to the speedometer, while the trip computer between the dials shows battery capacity and what's in the fuel tank. Everything feels well screwed together, and while the quality of plastics isn't on par with premium manufacturers, it's certainly further upmarket than any other light commercial vehicle on sale.
Equipment, options and accessories
The Outlander PHEV Commercial comes in Reflex trim, which is equipped pretty generously. Standard features include alloy wheels, a rear spoiler, rear parking sensors and camera, auto-beam headlights, rain-sensing wipers, heated seats, DAB radio, keyless starting and dual-zone climate control. The Mitsubishi Outlander PHEV Commercial is compatible with Apple CarPlay and Android Auto, too. Compared to rival LCVs, the Outlander is about as luxurious as it gets.
Infotainment, apps & sat nav
Mitsubishi offers smartphone app connectivity with the latest Outlander PHEV Commercial, which allows you to remotely manage the Commercial's charging and heating, among other functions. Sat nav is be available on higher-spec models, although the latest update hasn't improved on Mitsubishi's infotainment offerings. The systems all seem a bit aftermarket and are clunky to use.