New Mercedes EQE SUV: specs, range, prices and first-ride review
We ride shotgun in Mercedes' new all-electric SUV capable of up to 334 miles of range. It's on sale now from £90,560
This is the all-new Mercedes EQE SUV: the fifth SUV in Merc's EV line-up and the fourth electric car to use the marque's bespoke electric-car platform, shared with the flagship EQS SUV. 
Style-wise there is little to tell the new EQE SUV apart from its larger EQS SUV sibling. It shares a similar overall design, with a familiar face and rear end. The EQE SUV is only a five-seater however, while the brand's zero-emissions range-topper has room for seven.
Two different versions of the EQE SUV are now available to order in the UK, with at least one faster variant from Mercedes' performance arm AMG due soon. Prices start from £90,560 for the EQE 350 4MATIC; first cars will arrive later this year, at which point it'll go head-to-head against the BMW iX, Polestar 3, Lotus Eletre and Audi Q8 e-tron, to name just a few of its future rivals.
Mercedes EQE SUV range, performance and charging
In the UK, the EQE SUV range kicks off with EQE 350 4MATIC which produces 288bhp and 765Nm of torque from two electric motors; good for 0-60mph in 6.6 seconds. 
Power comes from an 89kWh usable battery, which Mercedes will return a range of up to 334 miles. That's on par with the Audi Q8 e-tron's 330-mile maximum range, however it falls well short of the longest-range versions of the BMW iX and forthcoming Polestar 3 which can cover up to 380 and 379 miles on a charge respectively.
Next up is EQE 500 4MATIC. This also uses a dual-motor setup for all-wheel drive, but bumps power up to 402bhp and 858Nm of torque, while here the 89kWh usable battery offers a 324-mile range when fully charged.
Both versions of the EQE SUV heading to the UK match the EQE saloon's 170kW maximum charging speed, which should result in a 10-80% top-up time of 31 minutes. Mercedes says that it can achieve more consistently high charging speeds by using this technology, rather than adopting 800-volt architecture like you'll find in a Porsche Taycan. Mercedes also says it could have delivered faster charges, but the trade-off would have been decreased overall battery life.
Mercedes has also revealed two AMG-tuned versions – the EQE 43 4MATIC and the EQE 53 4MATIC+ – but so far hasn't confirmed if either of them are coming here. Both of these get the same battery as the rest of the EQE SUV line-up – plus two electric motors – but with significantly more power on tap. The 43 4MATIC produces a total of 469bhp and 858Nm of torque; enough for 0-62mph in 4.3 seconds, and 130mph top speed. Range for this version stands at 303 miles.
Meanwhile, the 53 4MATIC+ puts out 617bhp and 950Nm of torque as standard. If you opt for the AMG Dynamic Plus Package, power increases to 677bhp and 1,000Nm of torque, allowing the 2.7-tonne electric SUV to hit 62mph in 3.5 seconds. Mercedes says this version will only cover 292 miles before the battery runs flat.
Passenger ride review
We don't get to drive Mercedes' newest EV for a few weeks yet, but we had an opportunity to go for passenger rides in two versions: the EQE 500 4MATIC in AMG Line trim and the AMG EQE 53 4MATIC+.
Partnership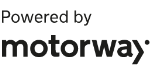 Need to sell your car?
Find your best offer from over 5,000+ dealers. It's that easy.
First up is the EQE 500, and straight off the bat, you'd be forgiven for thinking you'd hopped into the brand's range-topping EQS. Along with the similar exterior and cabin design, a lot of the EQE SUV's technology has been lifted straight out of the EQS saloon and SUV – including their EVA2 platform.
According to Dr Shahram Hami-Nobari, the EVA2 project lead development and our driver in the EQE 500, the difference is that the "EQS SUV is our interpretation of luxury, and the EQE SUV is a more sporty offering". Though it's quite difficult to distinguish between the two. This EQE SUV is fitted with air suspension (offering up to 25mm in adjustable ride height) and it's almost silent as we begin our test route. We start in Comfort mode and overall the EQE SUV feels like a superbly refined machine, with only a distant rumble from the tyres intruding into the cabin. The odd bump and imperfection in the road is dealt with impeccably. 
Even in its softest setting, the EQE SUV still remains fairly poised in the corners, while switching into Sport and then Sport Plus mode doesn't impact ride comfort. Despite weighing well over 2.5 tonnes, there's not much body roll, meanwhile the 402bhp produced by the two electric motors provides instantaneous torque and a satisfying surge of acceleration. 
The EQE SUV may be closer in size to the slightly smaller EQC, but our first impression is that it feels much more like the seven-seat EQS SUV on the road. Hami-Nobari highlighted another key difference between the EQE SUV and its sleeker saloon sibling: "the EQE SUV has a disconnect unit in the powertrain, unlike the EQE. The idea is to only drive the rear axle in certain conditions to promote efficiency. The driver also feels nothing when the switch happens. This technology will roll out on other EQ models later."
Now the EQE 53. This time Jens Hüser, Team Leader on the EVA2 AMG platform, is behind the wheel, who tells us the EQE SUV is the first electric SUV designed from the outset with AMG performance versions in mind. The regular EQE SUV creates its own soundtrack but the EQE 53 comes with different sounds, which are much more aggressive in tone without trying to mimic one of AMG's legendary V8 engines.
At the start of the test circuit Hüser selects launch mode, which seems ridiculous considering the AMG essentially matches the regular model's levels of comfort and refinement. The rear tyres spin up easily when you stamp on the throttle, though this is drowned out by the sci-fi-esque sound effects which come on automatically in launch mode. There's not much tilt from the front axle as the air suspension manages to keep most of the car's weight in check. The EQE 53 even dispatches the corners pretty well, but we'll hold off on final judgement until we put it through its paces ourselves.
For the time being, the EQE SUV may have been positioned as the smaller, less expensive and slightly sportier alternative to the EQS SUV, our first impressions reveal a big focus on comfort. The EQE SUV's astounding levels of refinement provided by the electric powertrain suit the Mercedes badge well, but the AMG one less so.
Interior, technology and practicality 
The EQE SUV measures 4,863mm long and 1,940mm wide, which makes it 262mm shorter and 19mm narrower than the EQS SUV. The EQE's wheelbase is just 180mm shorter, which means few compromises in the rear seats. Boot space stands at 520 litres – 20 litres larger than a BMW iX's – while folding down the Merc's seats reveals a total of 1,675 litres. There's a storage area beneath the boot floor, but there is no extra space under the bonnet.
Inside, the EQE SUV comes as standard with a 12.8-inch central touchscreen paired with a 12.3-inch digital driver's display. Pricier versions are fitted with the flagship EQS's 56-inch MBUX Hyperscreen layout, though the triple-screen configuration is available as a £7,995 option on select models.
Either side of the EQE's dashboard there are turbine-style air vents, while underneath the central screen is a floating centre console separating the front seat driver and passenger. It bridges the gap between the dashboard and armrest, with a covered storage tray in the middle. There's further storage underneath, plus ambient lighting for the front seats.
As you might expect from a high-end Mercedes, safety and driver assistance systems will be a key selling point for the EQE SUV (more on those later), and it will be available with 10-degree rear-axle steering (nine degrees on the AMG), reducing the car's turning circle to just 10.5 metres – less than a Mercedes A-Class hatchback.
Prices and equipment
The Mercedes EQE SUV isn't due to arrive in the UK until May 2023, but pricing and specifications for the full-size electric SUV have been revealed. The entry-level EQE 350 4MATIC is priced at £90,560, which is a sizable premium over the base EQE saloon's £75,000 price tag. The more powerful EQE 500 4MATIC starts from £108,760.
Only the EQE 350 4MATIC is offered in entry-level AMG Line trim, which features a 12.8-inch touchscreen and 12.3-inch instrument panel, active parking assist, sport seats, leather upholstery with a choice of either black or neva grey trim. Standard kit also includes keyless go, LED headlights with adaptive highbeam, air suspension, AMG body styling and 20-inch alloy wheels.
Both the 350 4MATIC and 500 4MATIC are available in AMG Line Premium, AMG Line Premium Plus and Business Class specifications.
Upgrading to AMG Line Premium trim ups the 350 4MATIC's price to £99,260, while the 500 4MATIC in the same spec start from £108,760. Standard kit includes 21-inch rims, a panoramic sliding sunroof, Burmester surround sound system, a built-in dashcam, augmented reality navigation and extra safety systems. The 56-inch Hyperscreen infotainment system is available on AMG Line Premium models for an extra £7,995, as is a 22kW on-board charger and towing package. 
Stepping up to AMG Line Premium Plus bring gets you the Hyperscreen as standard, on top of a head-up display and heat and noise insulating laminated glass to boost interior comfort and refinement. Plus, this spec comes with 22-inch alloy wheels and Mercedes' 'digital light' headlights with a project function that can display information about your journey ahead and road conditions onto the road.
An alternative to Premium Plus is the Business Class trim that focuses more on interior comfort, and comes with every bit of kit Mercedes could throw at the EQE SUV such as a TV function for the Hyperscreen, as well as a heated steering wheel and seats. Business Class models also come with 10-degree rear-wheel steering, as do Premium Plus cars, plus a choice of four Nappa leather options for the cabin.
The EQE 350 4MATIC in both Premium Plus and Business Class trim costs £112,260, while an EQE 500 4MATIC in either of those top-of-the-range specifications will set you back £121,760.
Future Mercedes electric cars
Mercedes will continue its electric-car offensive, with a new EV due every six months. The EQE SUV will sit above the EQA, EQB and EQC in the Mercedes' SUV range, below only the flagship EQS SUV and the forthcoming EQG electric G-Class, due on sale in 2024.
First contact: facelifted Kia EV6 will look even more like a UFO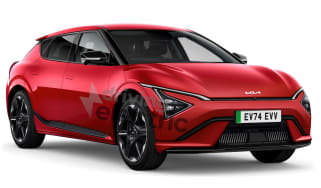 First contact: facelifted Kia EV6 will look even more like a UFO
First contact: facelifted Kia EV6 will look even more like a UFO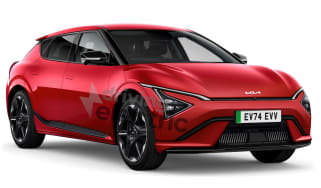 First contact: facelifted Kia EV6 will look even more like a UFO
Kia is readying an update for the EV6 crossover, which is set to include a new face and tech from the larger EV9
Electric Renault Twingo revealed as £17k rival to Citroen e-C3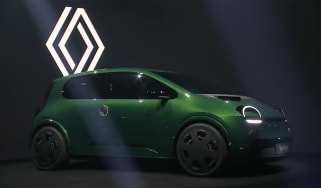 Electric Renault Twingo revealed as £17k rival to Citroen e-C3
Renault has unveiled its smallest EV yet; a sub £20k city car with a claimed high level of efficiency
New Fisker Ocean Sport washes up in the UK: £36k for a 288-mile range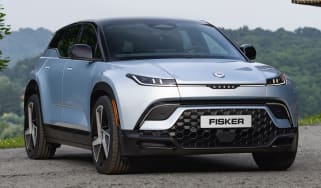 New Fisker Ocean Sport washes up in the UK: £36k for a 288-mile range
American EV startup Fisker has just launched its entry-level Ocean SUV in the UK, with a range of up to 288 miles