New 2022 Mercedes EQE electric SUV: pictures and details
The new Mercedes electric SUV has been spied testing in both standard and high-performance AMG guises, ahead of its expected launch later in 2022
Mercedes' next pure-electric SUV, the EQE SUV, has been snapped testing again – this time in high-performance AMG guise on public roads in Germany (above). The car will rival large electric SUVs like the Tesla Model X, plus higher-end versions of models such as the Jaguar I-Pace, Audi e-tron and BMW iX3.
Expected to be unveiled later in 2022, the EQE SUV will sit above the EQA, EQB and EQC in the Mercedes SUV range, offering a higher-riding alternative to the EQE saloon. The EQS electric limousine tops the range, as well as getting its own SUV variant. AMG versions of the EQE and EQS saloons are already confirmed, and the performance division's takes on their SUV variants will follow in due course.
Speaking about the EQE and EQS SUVs, Mercedes designer Gorden Wagener has said. "They'll look different in a similar way, as I describe the EQS," he said. "They'll be more seamless, more integrated, more aerodynamic, more futuristic looking – so it'll be a new type of SUV."
Judging by the latest spy photos of the AMG version, as well as earlier pictures of the standard EQE SUV (above), the car will have a similar front end to its saloon counterpart, with slim LED headlights and a large grille discernable under the camouflage. A tall roofline tapers down to meet the rear end, which itself is likely to feature a full-width LED light bar.
Unlike the current GLC-based Mercedes EQC, the EQE SUV will sit on the same dedicated electric-car platform as the EQE saloon and both EQS variants. These underpinnings should prove lighter, more efficient and better for overall packaging than the brand's first effort. Like the EQS luxury saloon, the EQE SUV will be available with rear-wheel steering to aid agility at low speeds and stability at high speeds.
As with other EQ models, the EQE is likely to be available with a range of different battery sizes and power outputs, similar to those offered by rivals including Tesla and Audi. It's likely that the top-performing models will easily pass the 350-mile mark for range, alongside punchy sub-five-second acceleration times.
Can solar panels charge an electric car?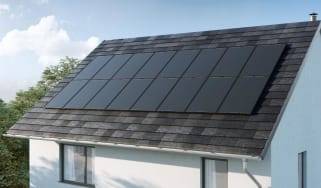 Can solar panels charge an electric car?
Using solar panels to charge your electric car can save you money in the long run. Here's everything you need to know about charging an electric car w…
New MG4 EV electric hatchback starts from £25,995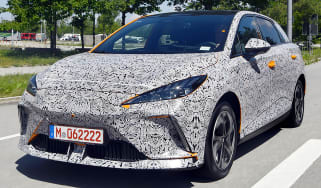 New MG4 EV electric hatchback starts from £25,995
MG's Volkswagen ID.3 rival will be one of the cheapest EVs on sale. We've driven a prototype
Tethered or untethered home charger?
Tethered or untethered home charger?
All the pros and cons of home wallbox chargers with either tethered or untethered cables