Mercedes E 300 de vs Mercedes E 300 e: verdict and specifications
It's a close-run thing, but the petrol-electric E 300 e just shades it in when squared up against the diesel-electric E 300 de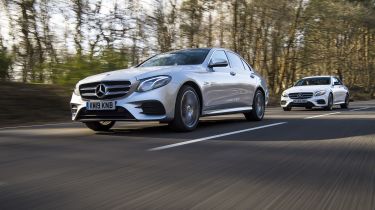 We're big fans of the Mercedes E 300 de. The prospect of decent fuel economy as well as a meaningful amount of pure-electric running has obvious appeal, and if you're of a high-mileage persuasion but will benefit from inner-city zero-emissions, there's very little to rival it.
But there's a sense of quietly simmering unease with diesel power, because its future isn't in the hands of the buyer or manufacturer, but rather the legislators. Ultimately, nobody knows how harsh the tax penalties might become on diesel cars in the next few years, or whether they will apply to plug-in hybrids such as this.
We certainly hope that Mercedes' diesel PHEVs (which will soon include the smaller C-Class and some of its SUV models, too) retain the same tax benefits as any plug-in hybrid. After all, independent particulate emissions tests have shown the diesel E 300 de to be rated about the same for tailpipe emissions (including the dreaded NoX particles) as the petrol E 300 e, and it's better for both CO2 emissions and fuel economy in the real world.
Despite all that, for us to stand up in 2020 and say that diesel has more than a limited shelf-life is to point at the bull in the china shop and promise that it's well behaved. Unease over diesel, coupled with the better refinement of the petrol – not to mention total three-year/30,000-mile life-costs of only £1,000 more despite inferior economy – means that we'd put our money on the green pump.
1st: Mercedes E 300 e – 3.5 stars
The petrol E 300 e is disappointing for post-electric economy, but it's also lovely to drive and cheaper on many other ownership fronts than the diesel. We'd really like Mercedes to resolve the poor boot space in both of these PHEVs, but otherwise it's a great plug-in executive car.
2nd: Mercedes E 300 de – 3.5 stars
The diesel E 300 de is the better option for those expecting to do very high mileage with only occasional charging, as it'll save you plenty on fuel. But it does feel a little coarse compared to the petrol and the lifetime running costs are closer to than you'd imagine.
Specifications (modify table as necessary)
| Car | Mercedes E 300 de AMG Line | Mercedes E 300 e AMG Line |
| --- | --- | --- |
| List price | £52,675 | £50,030 |
| Engine | 2.0-litre diesel + electric motor | 2.0-litre petrol + electric motor |
| Transmission | 9-speed auto, rear-drive | 9-speed auto, rear-drive |
| Power / torque | 302bhp / 700Nm | 316bhp / 700Nm |
| 0-60mph | 5.9 seconds | 5.3 seconds |
| Top speed | 155mph | 155mph |
| 100% charge cost at 14p/kWh | £1.30 | £1.30 |
| Charge time (wallbox / socket) | 1hr 45mins / 5hrs | 1hr 45mins / 5hrs |
| Official MPG / CO2 / electric range | 188mpg / 37g/km / 32 miles | 141mpg / 47g/km / 32 miles |
| On-test MPG / electric range | 49mpg / 22 miles | 31mpg / 22 miles |
| Road tax / BiK rate  | £465 / 10% | £465 / 10% |
| Length / width / height / wheelbase | 4,940 / 1,852 / 1,452 / 2,939mm | 4,940 / 1,852 / 1,452 / 2,939mm |
| Boot capacity (seats up) | 370 Iitres | 370 litres |