Mercedes E 300 de vs Mercedes E 300 e: running costs and warranty
There's very little to choose between the petrol and diesel E-Class plug-ins, when you factor in all running costs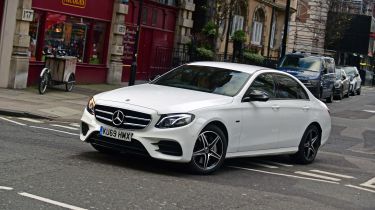 If your company car is first registered after 6 April 2020 and can travel between 30 and 39 miles on electric power alone (as both of these Mercedes can), then you'll pay Benefit-in-Kind tax at just 10, 11 and 12% respectively over the next three financial years. Based on current list prices, for the E 300 e AMG Line Premium that works out at a total company-car tax bill of £6,912.84 over the next three years for a 40% taxpayer, compared to £6,933.84 for the E 300 de diesel ordered in the same specification.
And even someone running one of these cars already registered before 6 April will see their rate drop to 12% for the next three financial years, so whichever way you cut it, the news is good for anyone running a plug-in hybrid as their company vehicle over the next few years. The costs to the company running the car vary widely depending on the corporate plan in place. Leasing costs typically average out on both at around £450-£500 per month on a three-year plan with a 12,000-mile annual limit.
If your company buys its fleet vehicles, the better depreciation forecast for the petrol will appeal; it's expected to be worth £22,375 after three years, while the diesel is more likely to be worth £21,850. Insurance is also a few groups lower: the petrol is in 41 to the diesel's 44.
Overall, if you're a company or private buyer that plans to sell the car on after three years, we'd expect total costs (including servicing, depreciation and fuel) to come in at around £35,904 for the E 300 de based on our average test economy of 49mpg over 10,000 miles. The higher fuel usage does hurt the E 300 e, but it claws back some of those losses in lower insurance and depreciation, so we estimate it'll cost £36,981 – only £1,000 more over a three-year period – despite that fuel-economy deficit.
We haven't factored in charging costs, but on a standard domestic home tariff you're looking at £1.89 for a full charge, or you can halve that by using off-peak overnight tariffs. That's 8p per mile even on a normal tariff and a 22-mile electric range, as opposed to fuel costs of 12p per mile on diesel for the E 300 de at 49mpg, and 18p per mile on unleaded petrol for the E 300 e at 31mpg.