Mercedes E 300 de vs Mercedes E 300 e: range, charging and fuel economy
The diesel E 300 de is more economical once battery power runs out, so it's a better choice for those who frequently cover long distances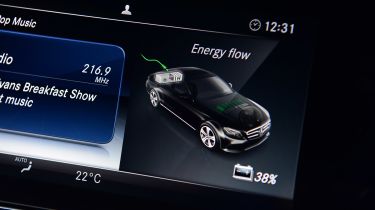 Ignore the official fuel-economy figures for any plug-in hybrid – the lab test for this sort of powertrain is wildly optimistic. The best way to judge the efficiency of a plug-in is to find out the real-world pure electric range and then calculate the economy you get when the battery is depleted.
We've not just tested the E 300 de, we've lived with it for 5,000 miles (and counting). We know it'll reliably do 18 electric miles in cold weather if you're predominantly on the motorway, or creep up to 22 miles if you spend more time around town, where electric motors are more efficient. Warmer weather should see that figure jump to 25 miles or more.
Since both the petrol E 300 e and diesel E 300 de have the same battery and even weigh much the same, they return identical electric range. Both also offer up to 7.4kW charging, which means you can fill the battery in well under two hours at a Type 2 charger, while a domestic socket takes five hours.
Naturally, there's a big disparity when it comes to economy. We ran both cars through two tanks of fuel with no charging conducted, with most of the mileage covered on the motorway and a bit of very congested town mileage. It's worth mentioning that the E-Class PHEV always retains some 20% of its battery charge when pure-electric running expires, to boost performance and efficiency.
On which note, it's frankly disappointing that the diesel managed 49mpg, and the petrol returned a fairly woeful 31mpg.  At current average fuel prices and excluding pure-electric mileage, that means you'll be paying £1,816 to fuel the E 300 e for 10,000 miles, or £1,187 for the diesel.
But to state the obvious, if they plug in and routinely use the electric mileage, there are hordes of commuters who could cut fuel costs to next to zero with a plug-in hybrid. Just charge it up if you want the benefits. Otherwise, you're simply paying a list-price and fuel-cost premium over cheaper, non-electrified alternatives, in order to lug around an electric motor and battery that you're not using.