Mercedes GLE hybrid review
The Mercedes GLE 350 de is a diesel-electric plug-in hybrid, adding low company-car tax costs to the large SUV's spread of talents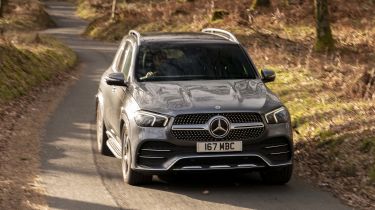 Pros
Spacious and luxurious
Rock-bottom company car tax
Very long potential electric range
Cons
Five seats only
Pretty expensive
Feels large on UK roads
| Car type | Electric range | Fuel economy | CO2 emissions |
| --- | --- | --- | --- |
| Plug-in hybrid | 55-58 miles | 314-353mpg | 19-22g/km |
The Mercedes GLE 350 de stands out in the plug-in hybrid SUV class for a few reasons. Chief among which is the fact it's offered exclusively with diesel-electric power, not the typical petrol-electric combination rivals like the BMW X5 xDrive45e, Audi Q7 TFSI e or Volvo XC90 Recharge use.
Then there's the GLE hybrid's electric-only driving range of up to 58 miles, which few PHEVs of this size can top. That, combined with ultra-low CO2 emissions of around 20g/km, means that the GLE plug-in hybrid attracts an 8% company-car tax rate – compared to 37% for the ordinary diesel models.
The official fuel-economy figure of over 300mpg is scarcely believable, and in truth you'll struggle to match that in everyday driving – it's only really possible if you drive on electric power for the vast majority of your time behind the wheel. As with any plug-in hybrid, starting every journey with a full battery and having a light right foot pays dividends.
But one advantage of the diesel-electric setup is if the plug-in GLE does run out of battery while you're out and about, you can still expect reasonable fuel economy of around 40mpg. That's impressive for such a large, heavy and powerful luxury SUV, and more than any of its petrol-powered competitors we mentioned earlier will manage when they run out of juice.
Despite its generous dimensions, the GLE doesn't feel as cumbersome as the BMW X5 or Audi Q7 to drive, although it's certainly not as nimble as the BMW. The Mercedes prioritises comfort – and to good effect; it's softly sprung around town, while also displaying excellent manners at higher speeds.
The GLE can feel a little eager and jumpy when running on electricity due to the instant shove available from the electric motor, but you soon learn to modulate the accelerator for smoother standing starts. Using the hybrid system is no hardship either, with the diesel engine blending in without interruption as and when it's needed. Unlike some rivals, the Mercedes seems keen to revert to electric power whenever possible, too.
As is the case with the BMW X5 hybrid, Mercedes only offers the GLE 350 de with five seats, instead of the seven available elsewhere in the range. Still, those seats are huge and provide plenty of space for adults to get comfortable, so the hybrid will probably still do the job for many family buyers.
The boot is big, but has a slightly lower total capacity than the conventional GLE's (490 versus 630 litres with all seats in place) and there's nowhere to store the charging cables when they're not in use. Elsewhere, you get an all-but-identical interior to that of other GLEs, with a beautiful twin-screen dashboard and extensive on-board technology. For a more detailed look at the GLE hybrid, read on for the rest of our in-depth review...