Mercedes E 300 de vs Mercedes E 300 e: performance and handling
The petrol E-Class plug-in hybrid is marginally faster and more agile than its diesel counterpart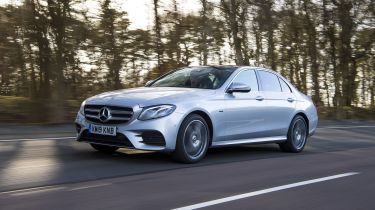 Both of these cars get a monstrous amount of torque and over 300bhp, although the reality is that neither feels like a car in which you'll relish a good road. What you will relish is either E-Class hybrid's enviable ability to make the commute feel like therapy rather than necessity. Both make for a seriously relaxing way to travel.
Mind you, it's worth going for smaller wheels. Our two E-Classes came in different specs – the E 300 de is in the AMG Line trim we recommend for balance of comfort and cost, complete with 18-inch alloy wheels and cushy ride comfort that's spot on for what you want in a big luxury executive car like this.
Even the standard white paint looks good. Our E 300 e test car, meanwhile, rode on 19-inch wheels and, significantly, optional run-flat tyres. It makes a big difference to ride comfort, sending more shivers through the interior over coarse surfaces, and sharper bump absorption compared to the generally waftier experience on the diesel's smaller wheels and chunkier tyres.
Of course, both tie down their two-tonne weight quite neatly and will thread precisely down a good road, especially in the Sport or Sport+ modes that sharpen up the steering and gearbox response. Refinement is closer than you might expect between the two, as well. In pure-electric mode both are super-quiet. Suspension thump is one of the most noticeable noises until you get up to motorway speeds (which is easy to do in electric mode) when wind and tyre noise creep in.
We did noise tests on both cars to see the difference and, remarkably, the diesel isn't much louder. At 30mph with the engine running, the petrol seemed noisier due to its bigger tyres, but it actually registered 59.7dB, versus 59.8dB for the diesel. At 70mph, that changed and the diesel was worse, at 70.1dB, while the petrol sneaked under, at 69.8dB.
What the decibel meter doesn't pick up is vibration from the diesel, which you feel more noticeably through the pedals and wheel as the engine kicks in. The diesel is also gruffer under heavy throttle rather than on the steady throttle we employed in noise tests. The reality is that both cars are impressively refined and lovely things to spend time in, but the petrol car is still noticeably smoother and quieter, and the better car to drive overall.