Mercedes E 300 de vs Mercedes E 300 e: space and practicality
Whether you go for petrol or diesel E-Class plug-in hybrid, you have to put up with an awkward box-shaped boot intrusion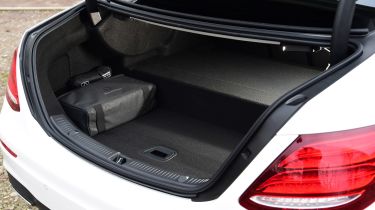 These cars are identical inside, and the general lustre and sense of quality is one of the reasons you'd buy a Mercedes in the first place. The big issue with the plug-in hybrid E-Class is that the batteries take up a huge chunk of boot space, leaving an unsightly and impractical ledge.
It's hard to forgive given that no rival car has to make such a huge compromise to fit batteries. Normally, you'd expect to get two large suitcases into the boot of a big executive car like this, but with the hybrid E-Class, that can't be taken for granted. Of course, there is the (diesel-only) estate version, but even that loses some capacity to its non-hybrid equivalent, too.
For all that, the driving position is second to none, visibility is good, the screen technology is hard to fault and the general experience of living with an E-Class is as smug-inducing as you'd expect of a car costing well in excess of £50,000, even in the lower trim levels.