Kia Ceed Sportswagon PHEV (2020-2021) range, MPG, CO2 & charging
Decent electric range and an effective hybrid mode make the plug-in Ceed Sportswagon very efficient around town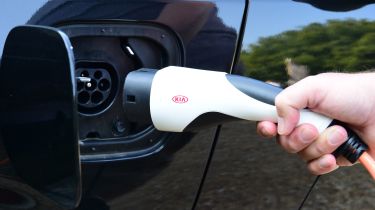 | Fuel economy | CO2 emissions | Electric range | Wallbox charge time |
| --- | --- | --- | --- |
| 188mpg | 33g/km | 29 miles | 2hrs 15mins (0-100%, 3.3kW) |
There aren't many direct rivals for the Ceed Sportswagon PHEV right now. Other plug-in hybrid estates, such as the BMW 530e Touring and Mercedes E 300 de, are much more prestigious and expensive, while the similarly priced Ford Mondeo Hybrid Estate isn't a plug-in, so it can't match the Kia's fuel economy, CO2 emissions and electric range figures. The Toyota Corolla Touring Sports is hybrid-only and a direct rival for the Ceed size-wise; it starts at a considerably lower price point, but it's also not a plug-in.
In terms of similarly priced plug-in hybrid rivals, there's Kia's own Niro PHEV, which may appeal to those who favour an SUV-style car over an estate, as well as the Hyundai Ioniq Plug-In, which is a reasonably practical five-door hatchback. You may be surprised to learn that the much more distinctive MINI Countryman plug-in hybrid SUV is only a couple of thousand pounds more expensive than the Ceed. Style-conscious buyers may feel that's a price worth paying.
Kia Ceed Sportswagon PHEV hybrid range, MPG & CO2 emissions
The Ceed Sportswagon has an official electric range of 29 miles – although as with all electrified cars, that's subject to factors like the outside temperature, the type of roads you're driving on and how heavily loaded the car is. That's reasonably good but not outstanding these days, and crucially just misses out on the 30-mile threshold for 10% company-car tax in the 2020/21 financial year (you'll pay at 12% instead). The closely related Kia Niro PHEV officially goes a mile further, sneaking it into the 10% band.
Claimed fuel economy for the Ceed Sportswagon PHEV is 188mpg – but this is an ideal figure that represents what's possible to achieve if you make full use of the car's electric range in ideal conditions. In the real world, it probably won't be possible to get near this figure. Official CO2 emissions are 33g/km, which makes for low first-year VED (road tax) and (until October 2021) exemption from the London Congestion Charge.
Charge time
The Ceed Sportswagon has an 8.9kWh battery, which is starting to seem small even by plug-in hybrid standards these days (the BMW 330e, for example, has a 12kWh unit). Although that's responsible for the Kia's short-ish electric range, it also means charging happens quickly; you should be done in not much more than two hours, even when connected to a conventional domestic electricity socket. There's no fast or rapid-charging capability, so plugging in to a public charging point at the shops or motorway services won't get the job done any quicker.