Kia Ceed Sportswagon PHEV plug-in hybrid on sale now
New plug-in hybrid Kia Ceed SW family car gets 29-mile electric range, priced from £29,995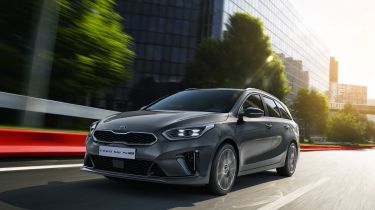 The new Kia Ceed SW PHEV is on sale now, priced at £29,995. The plug-in hybrid family car will do 29.2 miles on electric power, emits 33g/km of CO2 and officially returns 188.3mpg fuel economy.
The Ceed plug-in hybrid uses the same setup as the existing Kia Niro PHEV, comprising a 1.6-litre petrol engine paired with an 8.9kWh battery pack and a 44.5kW electric motor. It uses the same six-speed dual-clutch gearbox, and, as in the Niro, total power is 139bhp, with 265Nm of torque.
Those figures mean the Ceed Sportswagon PHEV is capable of 0-60mph in 10.5 seconds, with a maximum speed of 106mph. Kia doesn't publicise a top speed on electric power alone.
The plug-in Ceed SW gets a few hybrid-specific styling tweaks, including an updated closed 'tiger nose' grille and 'eco plug-in' badging. There's only one specification to choose from, closely matched to the conventional model's 3 trim.
Every car gets 17-inch alloy wheels, privacy glass, rain-sensing wipers, a reversing camera and power-folding door mirrors. Inside, there's Kia's latest 10.25-inch screen (first seen in the Kia Soul EV) with navigation and charging-point search functions, along with Kia's 'UVO Connect' smartphone app for remote control of certain functions. Apple CarPlay and Android Auto are also standard.
Dual-zone climate control is also included; this features an innovative 'driver only' button, which instantly de-activates airflow to all cabin vents except those nearest the driver. This enables battery energy to be preserved when driving alone.
The Ceed SW's charge port is located on the front passenger-side wing, while the fuel filler cap for the 37-litre tank is at the rear wing on the same side. Kia says recharging using a 3.3kW charger will take a little over two hours; fast charging is not available for the Ceed SW.
Some luggage space has been lost to fit the batteries, with the Ceed Sportswagon's boot dropping from 625 to 437 litres. Overall capacity with the seats folded falls from 1,694 to 1,506 litres. Kia does offer a dedicated cable-storage compartment, however.