Kia Ceed Sportswagon PHEV (2020-2021) engines, drive & performance
The Ceed Sportswagon isn't as fast or as good to drive as its rivals, but it is pretty comfortable, particularly around town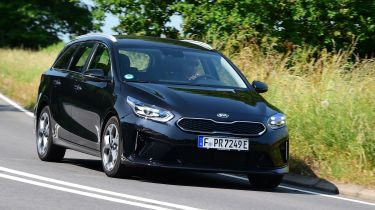 | 0-62mph | Top speed | Driven wheels | Power |
| --- | --- | --- | --- |
| 10.5s | 106mph | Front | 139bhp |
Although they tend to be a little heavier than their petrol and diesel counterparts due to the presence of battery and electric-motor hardware, plug-in hybrids also tend to be quite fun to drive due to the instant low-down torque provided by the motor, boosting the internal-combustion engine.
The Kia Ceed Sportswagon PHEV is something of an exception to this rule, unfortunately, always feeling a bit sluggish when you put your foot down. It's actually at its best when you're cruising around and accelerating gently in electric mode; when the petrol engine fires up, it adds a harsh and unpleasant roar to proceedings when you're accelerating, without ever feeling particularly fast.
A six-speed dual-clutch semi-automatic transmission is the only gearbox choice; its shifts are slightly harsh but quick enough. Regenerative braking also features; this recaptures some of the energy that would otherwise be lost when slowing down, and allows for a degree of 'one-pedal' driving, where you only have to lift your foot off the accelerator to feel a slowing effect.
Kia Ceed Sportswagon PHEV hybrid 0-62mph, top speed and acceleration
The Ceed has pretty modest on-paper acceleration and top-speed figures of 10.5 seconds and 106mph respectively. It's no traffic-light Grand Prix winner or autobahn speed-record holder;  if you like the Ceed Sportswagon bodystyle but want a bit more pep, the 1.4-litre turbocharged petrol version – with an 8.8-second 0-62mph time despite a near-identical power output – is probably a better bet.
Handling
At lower speeds around town, the Ceed Sportswagon PHEV is very pleasant to drive. The effective hybrid system isn't too eager to call on the petrol engine when you accelerate, so most of the time you enjoy the smooth and silent power on offer from the electric motor, as well as the nicely comfortable ride quality courtesy of soft but controlled suspension.
At higher speeds on the motorway or a twisty back road, things are less impressive. The Ceed doesn't feel unduly strained at 70mph, but there's a fair bit of wind and tyre noise audible. Tackle a series of bends with enthusiasm and the Ceed won't do anything to concern you, but equally won't offer much in the way of involvement or excitement. The Ford Focus Estate (which isn't available as a plug-in hybrid) is a much better choice in this regard.