Where can I buy hydrogen and where is my nearest hydrogen filling station?
A guide to where you can find hydrogen fuel stations for filling up a hydrogen fuel-cell car in the UK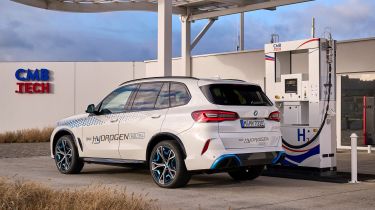 Hydrogen fuel-cell cars present an interesting alternative to battery-electric cars, as they can be topped up quickly at a refuelling station – just like a regular petrol or diesel-powered car. Hydrogen cars also offer great range than the majority of EVs, with the second-generation Toyota Mirai saloon capable of covering roughly 400 miles between fill ups.
These cars don't feature any compromises in terms of space or practicality from batteries under the floor, either. Plus, the only emissions from the tailpipe are water, and if the hydrogen is created using 100% renewable sources, it's entirely sustainable. But there are some limitations to hydrogen power.
Firstly, there are currently just two hydrogen fuel-cell cars on sale in the UK: the aforementioned Toyota Mirai and the Hyundai NEXO SUV, however, the latter is now only available to business customers. Hydrogen-powered versions of the Renault Master LCV and Vauxhall Vivaro Electric vans are on sale in Europe, but neither have landed on Britain shores to date.
BMW has created a fleet of 100 hydrogen-powered versions of its X5 SUV, one of which we got drive this year, but you can't buy one. Instead, they'll serve as rolling laboratories to see if hydrogen has a place in the future of cars. Hyundai is also working on hydrogen-powered cars, including a production version of its internet-breaking N Vision 74 concept that was unveiled in 2022 and we've also driven, however it's unclear when the road-going model will arrive in showrooms.
But not only is there a highly limited selection of hydrogen fuel-cell vehicles available at this point in time, the number of hydrogen filling stations in the UK has in fact been receding in recent years, rather than expanding,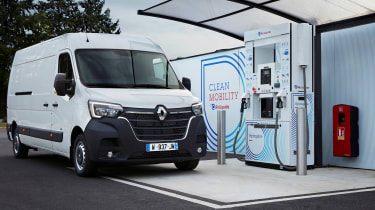 ​Where can I find a UK hydrogen refuelling station, how much does it cost and how do I fill up?
There are currently just six hydrogen filling stations open in the UK that you can use to fill up a hydrogen fuel-cell car, down from 10 in March 2022. Three of these stations are located within the M25, with one in the Peak District and two in Scotland. Here's the full list:
| Name | Location and postcode | Operator |
| --- | --- | --- |
| Power CEME Innovation Centre | Marsh Way, Rainham – RM13 8EU | ITM Power |
| NPL | Teddington – TW11 0LY | ITM Power |
| Hatton Cross | London – TW6 2GE | ITM Power |
| AMP | Rotherham, Sheffield – S60 5WG | ITM Power |
| Aberdeen Hydrogen Centre | Langdykes Road, Aberdeen – AB12 3FT | Aberdeen City Council |
| Hydrogen Refuelling | Powis Terrace, Aberdeen – AB25 3RF | BOC |
At the time of wtiting, there are plans for three more stations, one in Belfast, another in Glasgow, and finally one at Cavendish House (Prince's Wharf, Thornaby, Stockton-on-Tees, TS17 6QY). There were several more hydrogen filling stations at one time, including some in Wales, but these have now closed, as have two previous Midlands locations, at Coventry University and the University of Birmingham. 
Shell has also closed all three of its hydrogen filling stations in the UK which were located at Beaconsfield Services, Cobham Services and Gatwick Airport.
Hydrogen cars are as easy to fill as a petrol or diesel one. It takes around five minutes to fill a tank. The pumps are similar to those at a conventional fuel station, and you plug the nozzle into your car in the same way. A kilogramme of hydrogen costs around £10-£15 in the UK. As an example, the Toyota Mirai's fuel tank holds 5.6kg, so it'll cost more than £50 to fill up.
BMW iX5 Hydrogen: first drive in BMW's hydrogen fuel-cell SUV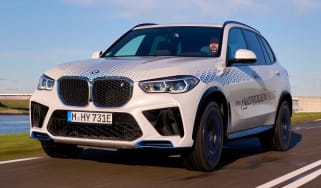 BMW iX5 Hydrogen: first drive in BMW's hydrogen fuel-cell SUV
Hyundai N Vision 74: full details and review of the retro hydrogen concept car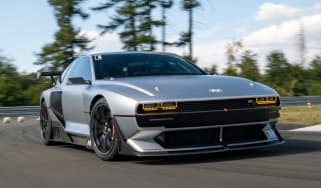 Hyundai N Vision 74: full details and review of the retro hydrogen concept car
What is a hydrogen fuel-cell car, or FCEV?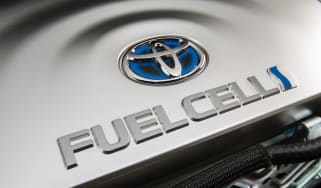 What is a hydrogen fuel-cell car, or FCEV?
Tesla Model 3 facelift will be a double-edged sword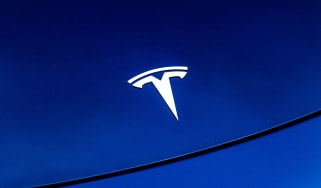 Tesla Model 3 facelift will be a double-edged sword
Tesla's updated EV will have an improved interior, greater range and a more affordable price – as well as one unfortunate drawback
Vauxhall Astra Electric: price, range and video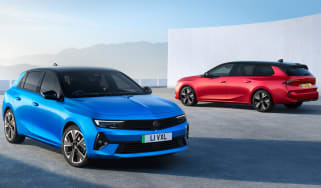 Vauxhall Astra Electric: price, range and video
The new Astra Electric shares its parts with the Peugeot e-308, with first deliveries due soon
Electric Ford Puma could become the UK's best-selling EV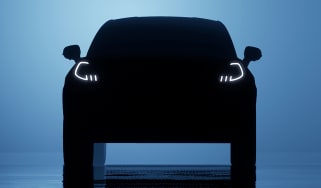 Electric Ford Puma could become the UK's best-selling EV
The Ford Puma EV is set to arrive in 2024 with a range of over 200 miles and a tweaked exterior design