Hyundai Ioniq 6: new Tesla Model 3 and Polestar 2 rival for 2023 unveiled
Hyundai's long-awaited follow-up to the Ioniq 5 is here, but range and performance remain under wraps
This is the Hyundai Ioniq 6 – a sleek four-door saloon sibling for the impressive Ioniq 5 hatchback and a new rival for established contenders like the Tesla Model 3, BMW i4 and Polestar 2 when it goes on sale in the UK in 2023.
Its design was influenced by the 'streamliner' cars of the 1930s and it draws heavily on Hyundai's 2020 Prophecy concept for inspiration, too. Specifically, the Ioniq 6 retains the Prophecy's rakish, almost coupe-like roofline, ducktail spoiler and very short overhangs at the front and rear. 
Those short overhangs should help maximise cabin space, as will the electric saloon's 2.95-metre wheelbase, which is roughly the same as a BMW 5 Series' and longer than that of its main rival, the Tesla Model 3. The Ioniq 6 is generally longer than the Model 3 as well, measuring 4.85 metres end-to-end. 
Meanwhile, digital door mirrors, active air intakes and flush doorhandles should all help reduce drag, although regular mirrors are likely to come as standard. Some of the Ioniq 5's more unique styling details have also been carried over to its saloon stablemate, including square LED lights and bold surfacing. Customers will have a choice of 12 paint shades – all made from vegetable oils – and alloy-wheel sizes from 18 to 20 inches.
The car's dual-screen infotainment setup comes straight out of the Ioniq 5, too; it consists of a 12-inch digital driver's display and 12-inch central touchscreen. Below that are a row of shortcut buttons and a touch-sensitive panel for adjusting the cabin temperature. 
The Ioniq 6's slightly squared-off steering wheel features interactive LED lights in the centre, which light up to show the battery's state of charge and flash green when the car is fully topped up. They also illuminate when you're using the virtual assistant. There are still physical buttons for various functions on the wheel, while unusually, the window switches up front have been moved from the doors to the centre console.
The cabin also includes ambient lighting front and rear, plus a completely flat floor, and is finished using sustainable materials like processed leather, recycled plastics and fishing nets – the latter used for the seats and carpets respectively.
Hyundai has yet to reveal any performance or range figures for the Ioniq 6, but we do know it'll use the same EV-dedicated E-GMP underpinnings as the Ioniq 5, Kia EV6 and Genesis GV60. Therefore, we can assume it'll boast impressive ultra-rapid charging – potentially up to 240kW – thanks to the platform's 800-volt electrics.
For the same reason, we expect the Ioniq 6 will be available in rear and all-wheel-drive configurations, and produce over 300bhp in its most potent form at launch. However, we know that a high-performance version of the Ioniq 5 is in the works from Hyundai's N division, so it's not a stretch to think a similar Ioniq 6 could be on the cards, too.
Hyundai's chief designer SangYup Lee agrees, telling DrivingElectric: "[Ioniq 6] would also make a great performance model". When asked about potential for more variants, Lee also said "I can make a great hatchback out of that; a shooting brake," suggesting that a more practical model, akin to sister brand Genesis' GV70 Shooting Brake, shouldn't be ruled out.
In terms of battery sizes and range, the Ioniq 6 is likely to be offered with the same 58 and 77.4kWh batteries as the Ioniq 5, but given the saloon's more aerodynamic silhouette, range figures for the equivalent Ioniq 6 are likely to be slightly higher. If true, we can expect the entry-level 58kWh model to return upwards of 250 miles on a charge, with the larger 77.4kWh unit stretching that to over 300 miles.
Pricing and exact specifications are still under wraps as well, but considering the price of the Polestar 2, Tesla Model 3 and Ioniq 5, we'd expect the Ioniq 6 to start at close to the £50,000 mark. Order books are set to open later this year, with first deliveries in early 2023.
The Ioniq 6 will be the Ioniq sub-brand's 'halo' product until the larger Ioniq 7 electric SUV arrives in 2024. They're the next two models in Hyundai's roster of 23 new battery-electric cars that it plans to launch worldwide by 2025, with at least one other being a city-car-sized electric SUV that's set to launch in 2023.
Hyundai's first-generation electric car, the Ioniq Electric hatchback first introduced in 2016, is ceasing production in July 2022 and won't be directly replaced. However, the somewhat newer Kona Electric SUV will continue to be available for the time being, alongside the more futuristic numbered Ioniq models.
Hyundai is also working on a number of hydrogen-powered projects, including a high-performance fuel-cell car previewed by the Vision FK prototype. It produces over 670bhp and uses technology from electric hypercar company Rimac.
New electric cars coming in 2022 and beyond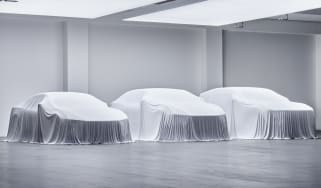 New electric cars coming in 2022 and beyond
Fisker PEAR: electric SUV could start from close to £25,000, says CEO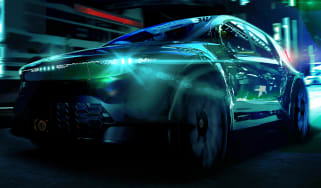 Fisker PEAR: electric SUV could start from close to £25,000, says CEO
Top 10 best seven-seater electric and hybrid cars 2022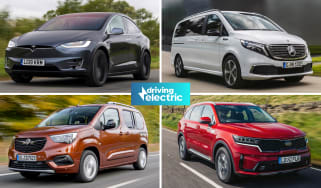 Top 10 best seven-seater electric and hybrid cars 2022
If the regular crop of electrified SUVs and family cars don't provide enough practicality for you, then take a closer look at the range of electric an…
Top 10 cheapest electric cars 2022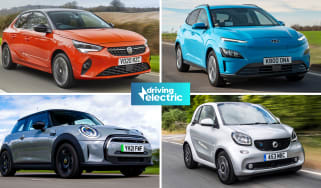 Top 10 cheapest electric cars 2022
Contrary to popular opinion, not all electric cars are expensive. Here are the cheapest ones available in the UK right now
New electric cars coming in 2022 and beyond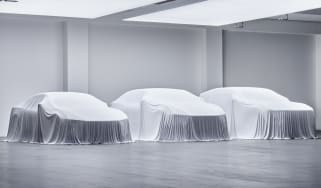 New electric cars coming in 2022 and beyond
With electric cars making up an ever-increasing proportion of sales, the industry is working flat out to launch new models – here's what's on the way …