Hyundai Ioniq 6 electric saloon spied testing again ahead of debut
Hyundai's next electric car will be Ioniq 6: a sleek four-door inspired by the Prophecy concept, it's set to be revealed at some point in 2022
The Hyundai Ioniq 5 is one of the best electric cars on sale, so it's not surprising that the South Korean brand is moving quickly to follow it up with the Ioniq 6 saloon, which has now been spied testing on public roads for a third time ahead of its 2022 launch.
These and the previous testing photos show how much the Ioniq 6 will be influenced by the Prophecy concept, which was due to be unveiled at the 2020 Geneva Motor Show before the event's cancellation. Some details from the four-door electric coupe, such as its coach doors, don't seem to have made it to production, but that's hardly surprising.
However, the Ioniq 6 prototype does sport a very rakish roofline and very short overhangs at the front and rear, which featured on the Prophecy. The latter also had a radically different cabin, but we've yet to get a look inside the Ioniq 6 to see how much of that has been carried over.
Other than that, details on the Ioniq 6 remain thin on the ground. We do know that it'll sit on the same mechanical platform as both the Ioniq 5 and Kia EV6. That means it should feature ultra-rapid charging capability – up to 220kW or faster – thanks to the platform's 800-volt electrics.
For the same reason, we expect the Ioniq 6 will be available in rear and all-wheel-drive configurations, and produce over 300bhp in its most potent form. Key rivals for the Ioniq 6 when it goes on sale will include the Tesla Model 3, BMW i4 and Polestar 2, among others.
The Ioniq 6 will be the sub-brand's 'halo' product until the larger Ioniq 7 full-size electric SUV arrives in 2024. They're the next two models in Hyundai's plan to release 23 new battery-electric cars worldwide by 2025, with at least one other being a city-car-sized electric SUV that's set to launch in 2023.
Hyundai has previously claimed that each Ioniq model will follow a theme of "timeless value", whereby each is inspired by past models, but with a "bridge to the future". Initial images suggest the three launch cars will have unique styling, albeit with strong common themes such as distinctive LED lighting and bold surfacing. They'll also retain Hyundai badging – unlike cars from the group's luxury spinoff brand Genesis, such as the Electrified G80 saloon and the Electrified GV60 coupe-SUV.
More humdrum zero-emissions models from Hyundai, including the Ioniq Electric hatchback, are still on sale, but that car is unlikely to be directly replaced when it comes to the end of its time on sale in 2022. However, the manufacturer will continue to sell models like the Kona Electric SUV alongside the new Ioniq 5, 6 and 7.
Hyundai is also currently working on a number of hydrogen-powered projects, including a high-performance fuel-cell car that we got our first glimpse of in the form of the Vision FK prototype. It produces over 670bhp and uses technology from electric hypercar company Rimac.
Tesla Supercharger network: complete guide to Tesla charging stations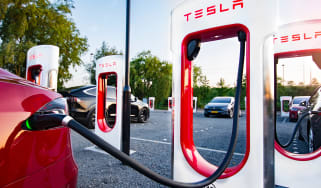 Tesla Supercharger network: complete guide to Tesla charging stations
The Tesla Supercharger network is expanding fast, providing reliable rapid charging throughout the UK to Tesla and non-Tesla owners alike
Where can I buy hydrogen and where is my nearest hydrogen filling station?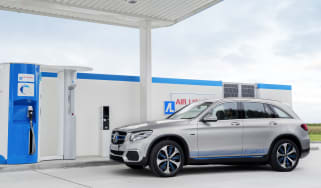 Where can I buy hydrogen and where is my nearest hydrogen filling station?
A guide to where you can find UK hydrogen fuel stations for filling up a hydrogen fuel-cell car
Top 10 best electric SUVs 2022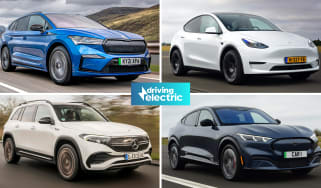 Top 10 best electric SUVs 2022
Electric SUVs combine style and practicality with low running costs, making them a very popular choice in the UK. Here are our top 10 favourites to bu…