Toyota bZ4X vs Hyundai Ioniq 5 vs Volkswagen ID.4: space and practicality
Two of these family-size EVs are impressively spacious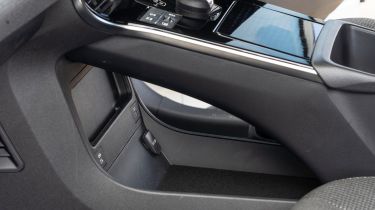 Hyundai's electric hatchback is deceptively big, both inside and out. Its electric-only platform has a really long wheelbase, with the wheels pushed out to the corners of the car, freeing up a huge amount of passenger space. Foot room is especially generous with no bulky centre console, and adults will have no problem getting comfortable in the rear seats. Many executive cars don't offer the same amount of rear-seat space as the Ioniq 5, nor the quality of materials.
Behind the seats is a shallow boot. It offers plenty of space, though, with a generous 527 litres to fill. That's just a few litres shy of the Volkswagen ID.4's 543 litres, but flip the seats down and the Hyundai actually comes out on top (1,587 litres versus 1,575). Brand new Ioniq 5s get a camera that sends a live view to the rear mirror, which fixes one of our main bugbears with the Ioniq 5 – that its lack of rear wiper meant the rear screen quickly got filthy. It seems an unnecessarily technical workaround when the Hyundai Tucson has a wiper hidden neatly under its spoiler.
The ID.4 provides plenty of space for family life, and not only in the boot. Good-sized door bins, a large covered storage zone and big cupholders are useful touches, and its wide-opening doors and easily accessible ISOFIX points make it the easiest car here to install child seats. We've often moaned about the interior being unintuitive to use, but a handy touch is that the digital information display moves with the steering wheel so it's always in the right position.
Toyota is often seen as a maker of sensible, practical cars but the bZ4X falls short in the company of the Ioniq 5 and ID.4. For whatever reason, the bZ4X doesn't have a glovebox so all the things you'd usually keep in there – such as the owner's manual – clutter up other storage spaces. At least the storage cubby underneath the centre console is useful, as is the lidded wireless phone charging spot. Just remember to take your phone with you at the end of the journey.
The Toyota isn't the only electric car to suffer from a high floor, but it's worth checking out the rear seats if you're regularly going to be carrying adults. The height of the floor pushes your legs up and away from the seat base, which isn't comfortable on longer journeys. Legroom and headroom are generally pretty good, though. In isolation, the 452-litre boot is fine, but it's much less than the ID.4. We'd like the rear seats to fold a bit flatter, too.