Toyota bZ4X vs Hyundai Ioniq 5 vs Volkswagen ID.4: interior and infotainment
Hyundai and Toyota have done better with their interiors than Volkswagen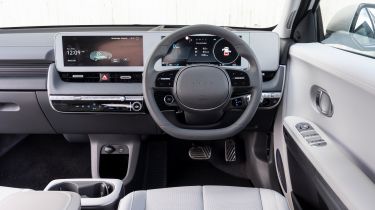 The interior of the Toyota bZ4X instantly makes the RAV4's cabin feel dated, thanks to a sharp-looking widescreen display and a cowl-less digital instrument cluster behind the wheel. There's an interesting textured material covering much of the dashboard and physical buttons for many controls, which ensure the car's numerous features are easy to use. Most of the materials feel high-quality (besides are a few scratchy plastics) and everything's screwed together really well. The swathes of gloss black trim will be a magnet for dust and small scratches, though.
Toyota's infotainment systems have lagged behind the class best in recent years, but the system in the bZ4X is thankfully much improved. Its graphics are better, it's faster and more responsive, it offers greater connectivity and just feels slick. The digital info display works well, too, giving you what you need to know without taking your eyes off the road for too long. Just make sure that it suits your driving position; like the Peugeot e-2008's i-Cockpit system, some people find the steering wheel obscures some of the display.
Considering the ID.4's position as Volkswagen's next-generation SUV, and the GTX as the range-topper, it's fascinating that the interior feels the way it does. Red accents do lift an otherwise drab cabin, but the material quality simply isn't good enough for a £50,000 car. There's even more piano black trim than in the bZ4X, too.
The ID.4's glossy infotainment system and conspicuous lack of buttons looked good on the show stand when it was revealed, but the VW is utterly frustrating to live with. That 10-inch touchscreen has a confusing menu layout and doesn't have the quickest responses, while the touch-sensitive climate controls and the needless way you switch between front and rear window controls don't work as well as the more conventional methods used in rival cars.
In contrast, the Hyundai Ioniq 5 gets a lot of things right inside. Hyundai's latest infotainment system is easy and enjoyable to use, with pin-sharp graphics and some handy features that are missing from the other two cars. Premium materials are used almost throughout, and a modern light-coloured interior makes the already-spacious car feel even more airy.