Toyota bZ4X vs Hyundai Ioniq 5 vs Volkswagen ID.4: verdict and specifications
The Toyota bZ4X runs the Hyundai Ioniq 5 close, while the Volkswagen ID.4 is the third best of our three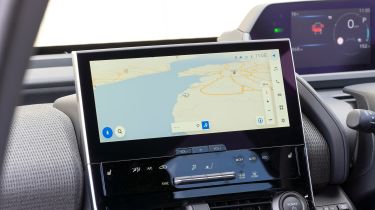 1st: Hyundai Ioniq 5 – 5.0 stars
The Hyundai Ioniq 5 continues to vanquish almost any opponent that dares face it. Retro looks hide the very latest technology, both in terms of infotainment and charging, while the Ioniq 5 is impressively practical and beautifully finished. It wins for both charging capability and performance, and it's a great long-distance cruiser. The cherry on top is that it undercuts these rivals at the time of writing.
2nd: Toyota bZ4X – 4.5 stars
Toyota's first crack at a fully electric car is a very good one. The bZ4X is more than capable of mixing it with the best electric SUVs, thanks to its decent range and charging capacity and its well-appointed interior. It boasts reasonable performance and practicality, and is the best of these cars to drive.
3rd: Volkswagen ID.4 – 4.0 stars
If the ID.4 didn't have a performance-focused badge we might be able to forgive it for its forgettable driving experience. It's the most spacious of these three, but that's not enough to overcome its interior shortcomings. The lofty price (and comparably short equipment list) don't help either.
Specifications
| | | | |
| --- | --- | --- | --- |
| Car | Hyundai Ioniq 5 77.4kWh Ultimate AWD | Toyota bZ4X 160kW AWD Motion | Volkswagen ID.4 GTX |
| List price/price as tested | £50,450 / £51,035 | £50,180 / £51,145 | £51,580 / £55,175 |
| Engine | Dual electric motors | Dual electric motors | Dual electric motors |
| Transmission | Single-speed, all-wheel-drive | Single-speed, all-wheel-drive | Single-speed, all-wheel-drive |
| Usable battery capacity | 77.4 kWh | 71.4 kWh | 77 kWh |
| Power / torque | 321bhp / 605Nm | 215bhp / 337Nm | 295bhp / 460Nm |
| 0-62mph | 5.1 seconds | 6.9 seconds | 6.2 seconds |
| Top speed | 114mph | 99mph | 112mph |
| Annual elec. cost (12k/20k miles) | £988 / £1,647 | £988 / £1,647 | £988 / £1,647 |
| Charging speeds | 7.4 / 11 / 220kW | 7.4 / 11 / 150kW | 7.4 / 11 / 135kW |
| Charging times | 13h / 8h / 18min (10-80%) | 12h 45m / 7h 45m / 32min (10-80%) | 12h 15m / 8h 15m / 32 min (10-80%) |
| Official range | 282 miles | 286 miles | 299 miles |
| On-test efficiency / range | 3.4mi/kWh / 263 miles | 3.4mi/kWh / 243 miles | 3.4mi/kWh / 262 miles |
| BiK rate (2022-23) / total for 20% taxpayer | 2% / £207 | 2% / £201 | 2% / £206 |
| Length / width / height / wheelbase | 4,635 / 1,890 / 1,605 / 3,000mm | 4,690 / 1,860 / 1,650 / 2,850mm | 4,584 / 1,852 / 1,631 / 2,771mm |
| Boot capacity (seats up/down) | 527 / 1,587 litres | 425 litres | 543 / 1,575 litres |