Toyota bZ4X vs Hyundai Ioniq 5 vs Volkswagen ID.4: safety and reliability
We'll have to wait and see whether the bZ4X completes a trio of five-star safety scores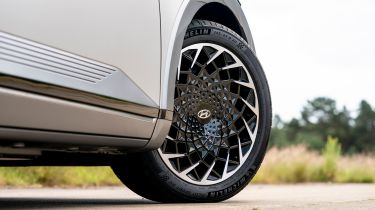 If you're planning to keep your electric SUV for a long time, the Toyota bZ4X will be the top choice. It's pretty much the only EV with a 10-year warranty (as long as you keep it maintained at a dealer), which makes Hyundai's usually generous five-year warranty look only average. The Ioniq 5 doesn't get mileage stipulations in that time, while the Toyota is capped to 100,000 miles, however. Both are longer than the three-year, 60,000-mile warranty that Volkswagen offers.
Toyota's lengthy warranty may not be needed very often, if at all, as the brand has an excellent reputation for reliability. Its hybrid cars have proven that complicated tech can be dependable, and electric cars typically have less hardware that might go wrong.
None of these cars have appeared in our Driver Power owner satisfaction surveys yet, but Toyota scored a top-10 finish in our 2022 brands survey. Hyundai was just behind on 11th, while Volkswagen came 18th.
In terms of safety, the ID.4 scored a particularly strong set of results when it was crash-tested by Euro NCAP in 2021. Adult occupant protection was rated at 93% and child protection came in at 89%, while it was awarded 76% and 85% for pedestrian protection and the available safety features respectively.
The Ioniq 5 also gained a five-star rating, with scores of 88%, 86%, 63% and 88% respectively. We'd expect a similarly strong score from the bZ4X when that gets tested, especially given that the Toyota gets a huge range of safety features as standard. Lane-keeping assist, adaptive cruise control, traffic sign recognition, autonomous emergency braking and hill-hold assist all come on every bZ4X. Mid-spec Motion models add an all-round camera, blind-spot monitoring and a system that checks whether it's safe for you to get out.
You have to step up to the ID.4 GTX Max for an all-round camera, while it's fitted on Ultimate and Namsan Edition specs of the Ioniq 5. The Hyundai also features all the safety kit you'd expect, plus a warning not to forget rear-seat occupants when you exit the car.